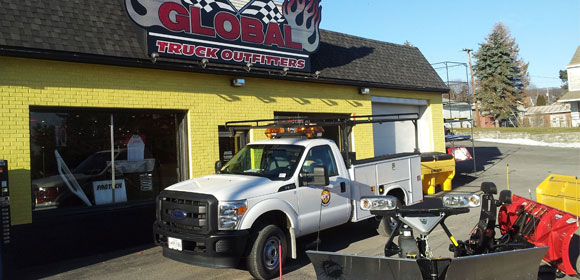 When Mike Sines, president and owner of Frostburg, Md.-based Global Truck Outfitters, first came across Line-X commercial coatings in 2005, he'd already been through a few interesting and diverse career iterations.
He'd seen some success as the owner of a real estate company and then again as an engineer for an East Coast railroad. With that diverse background, when Sines first had the bed of his personal truck sprayed with the bedliner material in 2005, he knew he had stumbled onto a versatile and profitable opportunity.
"At the time I had a lot of experience in other areas, but very little with protective coatings and even less with the automotive industry," says Sines. "I wasn't well versed in the business but I surrounded myself with people who knew quite a bit about it. These folks provided their knowledge – and it was all up from there."
At first, Sines saw the greatest opportunity in the application of the liner material in industrial and commercial coating applications outside of the automotive industry.
"I was fascinated by the story and the versatility of the product," he says. "After doing a bit more research, I ended buying a franchise and going into the business.
"Our intention wasn't to start in the truck market; our intention was to focus on the protective coating for industrial and commercial applications. But once we started spraying trucks, the customers instantly started asking for other products. That's when we realized where the real opportunity was."
After quickly coming to the realization that a bright future lay in the automotive aftermarket, specifically in the truck segment, Sines and his team reorganized under the name Global Truck Outfitters. The next step: aligning with a solid distributor for the accessories that their customers often requested – ranging from mud flaps, truck caps and tonneau covers, to plows and hitch accessories and a number of other product segments.
"We got set up with Blacksmith Distributing, and as we learned more about the truck accessory business, the more excited we were about our prospects," says Sines. "We still do plenty of work in non-automotive applications, but we went full force into the truck accessories business."
Diesel performance pros
Speed ahead to 2013. In addition to accessories Global Truck Outfitters is one of Maryland's leading A.R.E. Accessories' cap and tonneau distributors and is also quickly making a name for itself as a purveyor of today's leading diesel performance brands.
"Today we install just about anything on trucks – even plow setups and dump truck accessories – we only stay away from the heavy commercial trucks," says Sines. "Within that market, diesel performance products have emerged as a great opportunity.
"[The diesel performance business] is fair: It's been better but it's also been a lot worse," he adds. "A lot of customers today are looking for the power, but they're also looking for mileage improvements, especially with the new EPA (Environmental Protection Agency) crackdowns."
Because of that demand for efficiency, Sines says Global Truck Outfitters today specializes in fuel injection systems, turbos, chips and programmers, and full exhaust system upgrades for lifted trucks.
"But today we do everything from installing mud flaps to full performance builds," he says.
Diversified success
Sines estimates that Global Truck Outfitters still generates between 15%-20% of overall annual revenue from non-automotive commercial and industrial coatings applications.
"When we first got started those applications were the bulk of our business, but after spraying a few trucks we started going to SEMA and other trade shows and seminars – basically all the training classes I could find," he says. "We started growing our network with distributors, manufacturers and their reps. Most of all we just listened to our customers, and they kept asking for new product lines.
"As opposed to how some shops do it – where they'll bring in lines and test the demand – we just talked with customers as much as possible and responded to their requests. We didn't want to be in the position of having to create a market."
From its inception in 2005 through the first half of 2008, that sensible approach allowed Global Truck Outfitters to grow to nine full-time employees and experience steady 25% annual growth in sales. That allowed the company to grow into its current facility, which features a 3,500-sq.-ft. showroom, 2,500-sq.-ft. office and storage space, and four service bays that occupy another 5,000 sq. ft.
"Then, around mid-2008, sales just dropped off for us like it did for most everyone in this business," he laments, noting that today his adjusted staff numbers five full-time and two part-time employees. "Thankfully, we were able to make those adjustments through attrition not layoffs, but it was tough going. Today things are slowly coming back and people are starting to spend money again."
Sines attributes much of his ability to avoid layoffs to having such a diversified product offering and customer base.
"We never cut workforce to make more money, it was just that the work was slowing down so we didn't replace people who left for whatever reason," he says. "During that time our diversity within light trucks helped us to do better than other shops in this area. When trucks were hurting, our commercial accounts and municipality fleets stayed more constant. If we're pigeonholed into just offroad, for example, we probably wouldn't have survived. We did a good job of staying focused enough to have a niche, but also diversified enough to stay strong."
Back to basics
For Sines, Line-X is still and will likely continue to be his bread-and-butter product line. Everything else, he says, is still add-ons and upsells.
"There is always Line-X work, usually applied to new trucks," he says. "And that drives and opens doors for selling others' products and also brings in the fleet work like lift gates, emergency lighting, caps and tonneau covers and all the rest."
Sines estimates that retail sales provide about 50% of his annual sales, with another 35% originating from a strong network of local truck dealerships and a final 15% from commercial fleet work for state and local municipalities.
"We have very tight relationships with our dealerships, and that's a very important piece of our success," he says. "With a product like Line-X, you can earn their trust with a reliable, predictable result, and that opens the doors to all kinds of other work. Dealerships as a whole are our biggest customers."
Similarly, Global Truck Outfitters' 15% of fleet work has proven to be a valuable edge on its competition.
"Our fleet accounts are growing slightly, but have been very consistent," he notes. "I wouldn't say it has been easy to get to that point; you have to prove yourself. But when we've gotten those opportunities, we go above and beyond to build that relationship."
Event marketing
Those large-scale relationships have provided Global Truck Outfitters with the foundation upon which to build a successful business. In addition, Sines says he's tried just about everything to raise awareness of his business within the local and regional retail market, all with varying degrees of success.
"Over the years I've tried about any form of advertising out there. The two I swear by, though, are the large catalogs and shows," he says. "With catalogs, we know they work because people call. They're everywhere in the community, all our dealerships and big customers.
"The one thing I never cut is shows. We do different county fairs, home shows, truck shows. We even sponsor a truck-pulling series where we sponsor awards for the top four finishers. You just can't beat face-to-face interaction with your customers."
Providing opportunities for potential customers to touch and see the products up close and to meet his staff has been essential as Global Truck Outfitters attracts new business.
"We're not selling and collecting money at these types of events. It's strictly educational. We get so much exposure through those events. Of all the newspapers, radio, all the ads we've ever run, we've never seen a fraction of the response we get through events. They're low cost but high impact with a huge return on investment."
That return allows Sines to keep his staff busy, now and well into the future.
"There are two factors that have allowed us to be here today: One, we're blessed by God; that's our biggest. And second, we have amazing employees," says Sines. "I'm not just blowing smoke: Our people are professional, friendly, hard-working men who will go above and beyond. That's been the key to our success, without a doubt.
"Without them, we'd have closed up shop a long time ago," he says. "In return, we do what we can to keep them happy, take care of them so they care for us. Our good reputation is due to the effort of our employees, and we won't ever forget that."
With a staff like that, it's bound to be quite a future, to be sure.