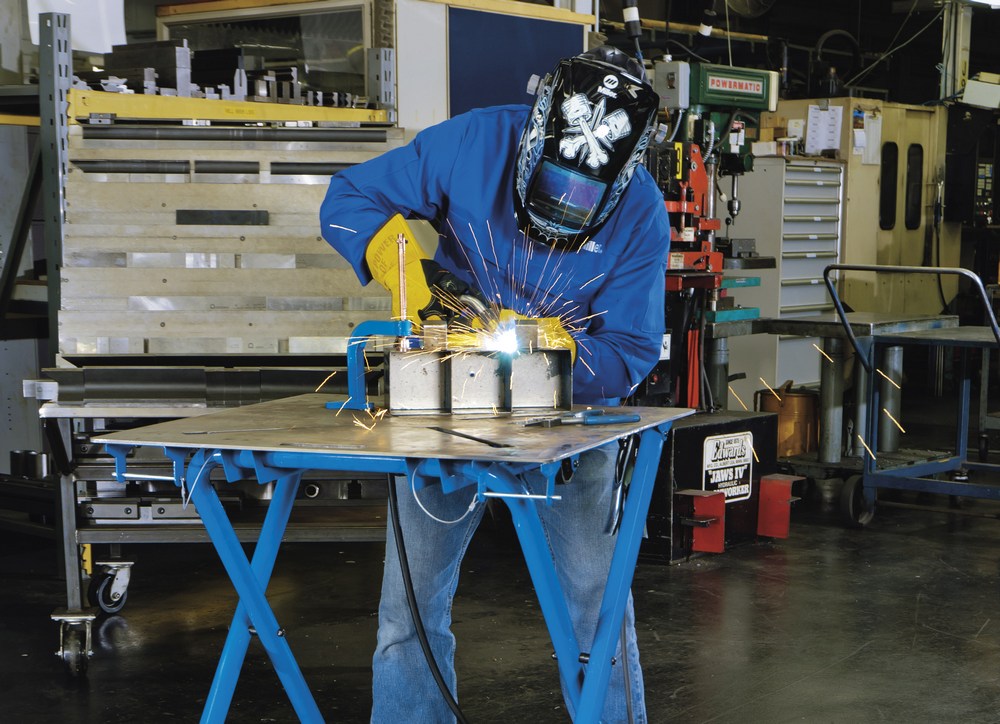 Any mechanic is as good as his or her tools, as the old saying goes. And it's also true in shops where equipment from machining centers to welders can make the difference between just doing the job and showing a better profit margin.
So it stands to reason that keeping track of shop equipment is just as important as knowing the very latest parts or assemblies for performance cars and trucks. Professional tools allow businesses to maximize efficiency and maintain quality, while substandard equipment can have the opposite effect.
We asked shop equipment manufacturers about the latest and greatest for our annual report, and learned something about the timing and benefits of updating your tools, understanding the return on investment they provide, and even what to do with old equipment that is being replaced.
Making Changes
So, is there an ideal time for shops to update their tools and equipment?
"I think it depends on the type of shop, but as a rule, I believe in updating equipment as technology changes," says Ed Kiebler, sales manager at Rottler Mfg. "Things like MLS gaskets demand better finishes. Typically you can't get those types of finishes with old-style machines that have the solid carbide cutters and single traverse speed, or updating from valve grinding stones to new-style carbide cutters. New, multivalve cylinder heads require greater valve seat concentricity. In turn, that requires new machine technology where the work head floats above chips and dirt and is lighter than trying to float the head and fixture under the spindle.
"You may also need to update as you transition, say, from general shop to performance shop," he adds. "CNC block machining equipment can give you the close tolerances needed to machine performance blocks."
Jerry Kroetch, president of Scotchman Industries, agrees that all shops are different when it comes to equipment needs.
"Some purchase what they need when they need it," he explains. "Others purchase tools closer to the end of year for tax reasons, and others will budget (money) to be spent in the beginning of the new year. For the businesses that can buy what they need when they need it, it doesn't get any better. For others, as long as they budget dollars every year, they will stay ahead of the competition."
One way to look at it is to wait as long as you can-"without waiting too long.
"The optimum time to update is when tools and equipment are either outdated or badly worn, or when the purchase will increase efficiency," says Leon Aldridge, director of advertising and marketing for Port-A-Cool. "Portable evaporative cooling units, such as the Port-A-Cool Cyclone 3000, help reduce shop temperatures up to 30 degrees. This helps reduce the chance of heat exhaustion and worker fatigue. Overall, new tools and equipment like this ultimately make jobs go easier and faster, which results in quicker turn times and increased revenue."
And if you are deep into racing, then updates come when there's time to get away from the track.
"We find that most of the race teams, regardless of series, turn their attention to issues like updating equipment or training for their fabricators during the off-season," says Greg Coleman, group leader, marketing communications for Lincoln Electric. "Purchasing new equipment during the off-season allows race fabricators at any level to get to know the new products. It's a good time to ask questions about new features, technologies, welding procedures and consumables. Attending motorsports training from major manufacturers like Lincoln Electric is a good way to trade information with peers while getting exposure to the latest welding technologies."
And sometimes you have to see those new technologies to know it's time to buy.
"The best time for a shop to upgrade is going to be during the trade shows," says Geoffrey Havens Jr., director of operations for Silver Seal Products. "Most all manufacturers are there as well as the people that actually run the equipment. This will give a shop an edge with great demonstrations. At the shows, many companies also offer deals, so in turn they are not only learning how to use the machine-they may also save some money."
What's In It for Me?
Speaking with equipment manufacturers can be enlightening in that they can often point out unexpected benefits of upgrading your shop tools.
For instance, "if you have the latest and greatest tools available to your employees, there is no job too big or out of the ordinary that you can't handle," Kroetch says.
There's also the prestige factor.
"Beyond quality work at a good price, customers often base confidence in technicians based on the condition and appearance of their facility, tools and equipment," notes Aldridge. "They relate 'cutting-edge' with knowledge and reliable service."
And power savings.
"In some cases, shifting from conventional transformer-based equipment to the latest inverter-based equipment can deliver greater efficiency and power factor ratings, resulting in less electrical power consumption," says Coleman. "Also, the faster arc response of inverter units can deliver greater control at the arc. That can translate into the ability to tackle thinner material, different alloys or new joints."
But the bottom line is doing work better and faster.
"The unexpected benefit to upgrading tools and equipment is the increased productivity levels, a better finished product, easier setup and less down time," says Havens.
Kiebler agrees.
"Probably the biggest benefit is increased productivity. An example would be our CNC block machining center. Not only can you square deck a block to a given deck height by simply typing in the number, but you can blueprint cylinder locations and lifter bore locations, along with stroker clearancing, line boring within 0.0002 inches, installation of aftermarket main caps, installation of roller cam bearings, block lightening, etc. A block can be bored, decked, lifter bushings installed, line bored and stroker clearance along with block end trued in less than eight hours."
Why Not?
Of course, it's not always easy for shops to make the initial investments of time, money and resources that some equipment upgrades require. If that's the situation your shop is currently in, you're not alone.
"Cost or perceived learning curves are big objections," Aldridge says. "The best response would be one based on the first two questions above. If new tools and equipment will decrease your turn time for jobs, increase your efficiency and ability to do a better job and increase your customers' confidence in your facility, all of those equate to increased revenue and profits."
Coleman agrees and adds one more.
"Cost, time to learn and the fear of the unknown (are the most common objections to upgrading). Letting go of older technology can be intimidating for many. For example, making the switch from oxy-fuel cutting to plasma cutting can be seen as an expensive proposition, but the speed and ease of use associated with plasma cutting can make a difference in the shop. Another example is moving from MIG to TIG welding. It is widely known that the learning curve to master the hand techniques required for TIG can be difficult for some. But every one of these technologies has its place in the shop tool arsenal."
It all starts with recognizing a need for change.
"The most common objection from people not wanting to upgrade is simple-some people just do not like change," Havens says. "You know how the old saying goes, 'If it's not broke, don't fix it.' The problem here is that (shops) could be missing out on some great new technology and upgrades. Some shops get very attached to a product line and unfortunately in today's market, some of those lines are gone. It is impossible to find parts and becomes a headache. So upgrading can be like pulling teeth to some that are used to the older-style machines. Going to something new and advanced can help push productivity well past what was the shop's normal level. But seeing is believing and a good demonstration of the new product really helps with shop upgrades."
Return on investment means that what shops put into new equipment more than pays for itself down the road. Kiebler explains that many objections stem from shops not considering current and future ROI.
"They can't afford to (upgrade) or they want to retire in a couple of years," he says of some shops' resistance. "(But) you really can't afford not to update equipment. Otherwise, you end up with a bunch of old equipment that can't be used to obtain the tolerances or finishes needed to compete. You also end up with a shop and equipment that has little to no market value for the owner wanting to sell and fund their retirement or do something else. It is very important to continue to update equipment to stay viable in today's market."
And ultimately achieve that beneficial return on investment.
"Mainly, (objections) are one of two things-"they don't believe they have a need or they don't want to spend the money," says Kroetch. "We hear all the time from our customers, 'I can't believe I did what I did without having the (new) machine.' Time is money and if you can do the job faster and charge the same amount of money, it's a win-win."
Out with the Old
Next, we asked what shops can do with tools and equipment they no longer want or need.
Lincoln Electric's Coleman offers an unusual option: "Like anything today, eBay or Craigslist are viable options to get compensated for the remaining value in used equipment. Of course, if the shop is large enough or they are experiencing a shortage of skilled labor, they could use the older equipment to set up their own training space for new fabricators on the team. Or, having additional equipment may allow a team to build up two groups of equipment-"one for the fabrication in the shop and one for emergency repairs at the track."
Silver Seal's Havensagrees there's value in used and unwanted tools and machines.
"There are a lot of ways to move the equipment after the shop does upgrade. There are local and national trade classifieds, personal sales, and some manufacturers even offer trade-in or trade-up programs. Also, selling to a new start-up company is always a great way for a place to sell older equipment."
Rottler's Kiebler says, "If they update while equipment is still viable, before technology completely makes it obsolete, there is still a good market for equipment. So typically, many of the machines can be sold to another shop or customer who is just getting started. There is still a market for good used equipment. Many of these machines are being sold internationally."
Kroetch of Scotchman encourages shops to view extra equipment as an asset.
"Please note their old tools are not junk. There are businesses starting up every day and for several reasons, they cannot afford to buy new ones. Put them on Craigslist or eBay. You'll be surprised how fast they will go."
And Port-A-Cool's Aldridgeoffers these options: "Inquire about trade-ins for new products, sell to hobbyists or donate to trade schools."
What You Need
Lastly, to really get an idea of what is hot right now, we asked about highly requested equipment for this year. The answers show there are plenty of must-have upgrades available for just about any work bay.
"With so many new and exciting products out there, it's hard to pinpoint just one item, but I'm going low-tech on this question," Havens says. "Three-angle seat cutter kits are always a hot item, with the ability to adapt them to new tooling to old machines. If I can adapt new tooling to a shop's older machine, it is a win-win for us and the shop."
Kieblerlists a few. "Surfacers and seat and guide machines seem to be in the biggest demand at the present time. Head work is still the most prevalent of all machine shop work and as the old machines wear out or become obsolete, shops are updating these pieces."
Aldridgesays his evaporative cooling units continue to gain popularity in performance shops.
"Demand has risen as more shop owners learn about the low cost of cooling their work areas with evaporative cooling, while improving the air quality and reducing heat stress-related illnesses and lost time."
And Kroetch says one of his company's current hot sellers is its CPO350 manual circular cold saw.
When it comes to welders, Coleman says: "Because portability and flexibility are prized by race teams facing different environments every week, our compact POWER MIG 180 Dual introduced a short while ago is a go-to machine for many race teams. It's basically two machines in one-a 140-amp wire welder when running on 120-volt input power, and a 180-amp unit for thicker material when running on 230-volt input power."
And that's just the kind of thing that can add to the bottom line of a shop-staying on top of new equipment.