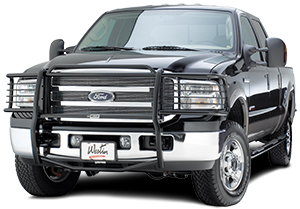 A surge in end-of-the-year car and truck sales heats up the grille market.
---
Here are the retailers Restyling interviewed:
Joshua Oakes, owner of The Hubcap Guy Inc., Weeki Wachee, Fla.
Brent Langston, manager of River Valley Truck Outfitters (owner Bruce Sears), Fort Smith, Ark.
Kyle Barrow, owner of American Wires, Stafford, Texas
Chad Jones, general manager of Automotive Specialty Distributors and Auto Sunroof Inc. (owner Rick Jones), Cinnaminson, N.J.
Joey Johnston, owner of Tops and Trends, Kernersville, N.C.
---
The grille market seems to have great potential in 2013.
New-car and new-truck sales reached their healthiest numbers in more than four years toward the end of 2012. A seasonally adjusted annual rate (SAAR) of 15.54 million units was reported near the end of last year, resulting in a 15% sales increase compared to the previous year, according to data from TrueCar.com. Plus, analysts had predicted the highest December truck sales since 2008 due to increased incentive spending by automakers such as General Motors, Ford and Chrysler, as they strove to eliminate bloated pickup inventories and gear up for the release of next-generation truck models.
To assess how the prosperity of the auto industry as a whole will specifically affect grille sales in 2013 and bring attention to notable trends, we sought insight from several restyling shops.
Most shops indicate positive grille sales in 2012, but predict that 2013 will be an even more profitable year.
Chrome grilles were reported as the most popular among customers in 2012, and the trend is likely to continue in 2013. Whether your business captures more of the used-vehicle, new-car or large-truck market, new model releases seem to propel the trends, and support from grille suppliers helps facilitate sales. As retail consumers purchase the latest car and truck models and commercial customers plan to upgrade their used fleets, the increased demand for grille and grille inserts seems inescapable.
Overall, how did grille and/or grille insert sales do for you in your area in 2012? Did cars or trucks comprise the larger share in sales?
In 2012, grilles did very well. They amounted to nearly 40% of our business. Truck grilles sold very well in my area, but even better than that were the SUV grille sales. The reason for that is the overwhelming amount of new SUVs rolling out that are fuel efficient and very spacious at the same time.
– Joshua Oakes, The Hubcap Guy Inc., Weeki Wachee, Fla.
Grille sales in general were probably 50/50 with 90% trucks and 10% SUVs and cars. It's more truck based than car based in the area because of the work crews that are around here.
– Brent Langston, River Valley Truck Outfitters, Fort Smith, Ark.
Grille sales grew probably 12% overall. The automotive market grew that much or more; there is obviously a high correlation between the two. It's probably two-thirds trucks and one-third cars for us. Texas is more of a truck market and the product allows more for trucks. The product is catered for cars, as well, but if you look at all the product lines, they've got more for trucks. It's what's available.
– Kyle Barrow, American Wires, Stafford, Texas
2012 for grille sales was great. We have a pretty strong sales force on the road that goes to new-car dealers, and we have our ecommerce stores and online stores where we promote our products. -¦ We also combine and package grilles with accessories like leathers and sunroofs. We're starting to do business with more manufacturers and, in turn, those manufacturers are designing and introducing grilles for more models than they ever have before. We are more of a car market. Being so close to Philadelphia, it's not really a rural area. It's more new cars and used cars; we have a really strong used-car market, as well.
– Chad Jones, Automotive Specialty Distributors and Auto Sunroof Inc., Cinnaminson, N.J.
2012 was probably our best year ever for grille sales. We made a better effort to focus on grille sales for certain vehicles. Midway through 2011 was when we really made a commitment to push it, and it carried over to 2012. It's since slowed down for us; the second half of 2012 was not nearly as good as the first half. When it comes to chrome overlay grilles, we have better success with trucks. If you're talking about wire mesh grilles, we have better success with cars.
– Joey Johnston, Tops and Trends, Kernersville, N.C.
Truck sales dropped off a bit in the last quarter of 2012, though that's considered part of the normal cycle. Do you think 2013 ought to be good for the grille business?
Truck grilles significantly dropped off in the fourth quarter of [2012]. However, SUV grilles covered the deficit in the truck grille sales. As far as being prepared goes, we're more than that: We've got an inventory to meet any demand, employees who are prepared to move them and a determination to make it a great first quarter. And I think 2013 will be a great year for grille sales due to the manufacturing of the new grilles for the latest model vehicles. Plus, grilles really do a lot for the appearance of a vehicle.
– Joshua Oakes, Weeki Wachee, Fla.
I think so because it's a lower-priced product that changes the appearance pretty well instead of having to go into some of the higher-priced products that cost more to try to make an appearance change on a truck.
– Brent Langston, Fort Smith, Ark.
We're waiting for our manufacturers to come up with the new body style changes. A lot of people hold off because of the model changes. There will be a big increase [in sales] and it will probably balance out for what they dropped [in 2012]. 2013 will be a good year. In the new year, the market in January, February and March picks up gradually. And April, June, July and August rock unless you have a body style change coming up with a manufacturer.
– Kyle Barrow, American Wires, Stafford, Texas
Manufacturers just continue to introduce new grilles for cars that never had them before, so that's obviously going to increase sales and awareness. With that and the availability of the newer models, I feel like 2013 will continue to be strong.
– Chad Jones, Cinnaminson, N.J.
I think [2013] will be [good]. Customers aren't going to come out to you and say, "Hey, we want to put a grille in." You've got to show them a grille; you've got to show them a package. We do well with grilles as part of packages, whether it be a sunroof and a grille, or leather and a grille, or a grille and a rear spoiler.
– Joey Johnston, Kernersville, N.C.
New cars and trucks are always likely candidates for grilles and inserts. How does the used-vehicle market fare in your business?
New cars and trucks look great with grilles. However, I believe it makes a greater difference on a pre-owned vehicle because used-car dealerships like to dress up their vehicles in order to compete with new-car sales.
– Joshua Oakes, Weeki Wachee, Fla.
The used-car market does about 65-70%; the new-car market does about 30-35%.
– Kyle Barrow, Stafford, Texas
Used cars are great; they're really strong for us. E&G's claim to fame is being heavily strong in Cadillac or your older classic grilles like your Chevy Caprices, and Cadillac DeVilles or Fleetwoods. More and more people are buying those "classic cars." And that trend is continuing. -¦ They're putting the big wheels, custom paint jobs and custom grilles on them. -¦ Because of people's pride and enthusiasm in these vehicles they've restored and dressed up, they've got to have the custom grille.
– Chad Jones, Cinnaminson, N.J.
It's been a hit or miss with used cars [for us]. If you've got a vehicle that just happens to have some damage or scratches on the grille, you could possibly put in a chrome overlay like a CCI. Some people will do some stuff with used cars; we haven't had that kind of success. I think part of it is that we just haven't attacked that market as well as we could.
– Joey Johnston, Kernersville, N.C.
Looking at vehicles more specifically, what models are you having the most success with?  
GM's smaller line of SUVs and a lot of the foreign SUVs have been great sellers this year. These have probably been the most successful areas in grille sales. This trend seems like one that is going to continue well into 2013.
– Joshua Oakes, Weeki Wachee, Fla.
Anything in the newer range: 2005 and up or 2007 and up. The current [models] are definitely easier to work on in that area than some of the older ones are because you have to do cutout grilles on a lot of the older trucks. With everything laying over and snapping over now, it's definitely a lot quicker, and you still make the same amount of money in less time.
– Brent Langston, Fort Smith, Ark.
Base cars that you can merchandise to look more like higher-end cars. If you think about the highest-volume used cars, the base models, a lot of rental car companies put them out there. -¦ The grilles can actually allow them to look more like the (Chevy) LTZs and the (GMC) Denalis.
– Kyle Barrow, Stafford, Texas
Cadillac, Chevy, and then we have a lot of success with the import lines, as well – Nissan, Hyundai, Toyota and even Kia now. We never had grilles or that many accessories for these vehicles before and now that they're up there, they're really selling very well. Manufacturers have introduced different grilles for these different imports, especially Hyundai and Kia. We never had grilles or really much aftermarket accessories for those vehicles. They just weren't that popular; but the increase in popularity of those [vehicles] has increased our grille business. I see that continuing.
– Chad Jones, Cinnaminson, N.J.
Initially, we had luck with a lot of import vehicles and the Cadillac product. It has kind of shifted now. Imports aren't as successful, and the Cadillac business has dropped off. Now we're doing more domestic product: Big Three brands – General Motors, Mopar and Ford grilles.
– Joey Johnston, Kernersville, N.C.
Why do certain vehicles seem to lend themselves well for the grilles and grille inserts markets?
Certain vehicles lend themselves well for grilles because of the factory chrome that comes on the vehicle. Adding a grille insert ties it all together and completes the look.
– Joshua Oakes, Weeki Wachee, Fla.
It just seems that with these newer models – even hybrids – and just different body lines, a lot of vehicles are just screaming for a grille. They're just so ugly and plastic looking. -¦ And everybody just wants to have that uniqueness, the personalization of their own vehicle.
– Chad Jones, Cinnaminson, N.J.
It's all over the board. -¦ Take the Kia Optima, for example; when it came out it was a very popular car. We did well with grilles on it. Kia was a good line for us; so was Hyundai. But I think some of the newness of those cars has worn off.  In some part, grille sales ebb and flow due to new-model releases.
– Joey Johnston, Kernersville, N.C.
Looking at grilles and grille inserts themselves, what looks do your customers seem to be going for?
Chrome is the strongest-selling type of grille in our market. I have noticed a trend in matte black grilles and accessories as well as black chrome. I do believe that chrome grilles will hold their ground. At the same time, matte black and black chrome grilles are gaining popularity.
– Joshua Oakes, Weeki Wachee, Fla.
Chrome always sells, mainly because it has the elegant look to it. Our customer base is mainly 30 and up, so they're not looking for the black four-wheel-drive look to them. They want a "street classy" look.
– Brent Langston, Fort Smith, Ark.
The chrome grille is probably going to be your most popular. Black is going to be very trendy. Basically, making a look like an upper-end OE is going to be what's going to sell. You limit your market when you start dealing with your golds, your blacks and all that – it's a very limited target market.
– Kyle Barrow, Stafford, Texas
It's a variety of styles. Manufacturers are doing a really good job doing their own homework and research. The trends just seem to be working. Everybody's got a different style and a different look that they want. Chrome is still very popular, but now that they've introduced brushed, matte and black, people really seem to be gravitating towards that, as well. I do believe that trend will hold throughout in 2013.
– Chad Jones, Cinnaminson, N.J.
We do mostly chrome.
– Joey Johnston, Kernersville, N.C.
How do your grille suppliers help you the most?
Coast to Coast International has really done a great job staying on top of the current trends, keeping up with current models and listening to our suggestions in regards to popular models.
– Joshua Oakes, Weeki Wachee, Fla.
Suppliers will send displays, which helps a lot. I display several different style grilles and, in fact, we're fixing to display a lot more because we're remodeling right now. Those guys are great on everything you need banner-wise and anything you need they'll send immediately. If you have it on hand, I think you can sell it. If you have it hanging on the wall, you've got an easier chance at selling it than trying to show them in a picture.
– Brent Langston, Fort Smith, Ark.
The key to suppliers is to keep up with all of the R&D (research and development) on the new products coming in and the new changes.
– Kyle Barrow, Stafford, Texas
We get referrals from them because they don't tend to sell directly. They also constantly keep us up to date on new products that they're introducing via e-mail or newsletters. They do some really extensive research and can almost guess what's going to be the next hot car or what's going to be the best-moving grille.
– Chad Jones, Cinnaminson, N.J.
From a marketing standpoint, by sending out a newsletter monthly that highlights new grilles that they've brought to market and having a good website. E&G is probably better than anybody in the business. They don't sell to everybody. For example, E&G probably helps us the most by protecting our markets. -¦ If anything else, they do a good job of actually helping us know about the product, and then helping us maintain a respectable profit margin once we sell it.
– Joey Johnston, Kernersville, N.C.