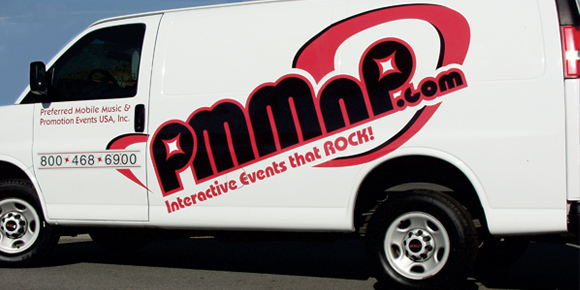 Here's the who, how, what, where and why of breaking into the fleet graphics world.
I'm not saying it is the best of times, but I'm not saying it's the worst of times either. The "salad days" of the automotive restyling industry are just a little different than they used to be. In days of yore, at some dealerships, I wouldn't even have to ask the sales manager for units to apply graphics to. They would simply encourage me to walk the lot and work on whatever I thought would help them sell some cars. Back then I decided how much work I wanted to do.
As they say, "That was then and this is now." And "now" may mean you have to think a little more harder, a little more creatively, a little more outside the box to grab your next profitable dollar. Business may not just be handed to you anymore, but it's still there to get, and you can get it while the gettin's good.
There may never be a better time to expand your graphics business or create a new one that can offer commercial fleet graphics. As the economy improves, existing companies are expanding their fleets; and new, soon-to-be-expanding businesses -" sometimes with just a fleet of one -" are looking for a vehicular way to begin marketing to the world. Your mission, should you choose to except it, is to help them advertise their services and/or wares, while creating an additional profit center for yourself. Is a fleet graphics biz for you? Here's the who, how, what, where and why of breaking into the fleet graphics world.
Identify your market and mark it
Look around you. There are large corporations, small companies. They might manufacture and deliver products, or they may be plumbers, florists, gardeners or swimming pool techs. A restaurant, whether or not it offers delivery, may want to use a vehicle as a promotional medium. A self-appointed musical artist might want to promote his self-produced album on his self-driven Hyundai.
Likely your area has city and/or county vehicles. These could include emergency service cars and trucks (police, fire, medical) as well as municipal services units. In some cases various government agencies might not be satisfied with their present graphics vendor or they may be due to put out the fleet graphics services for a periodic, mandatory bid.
Quality-done commercial vehicle graphics can deliver substantial profitability if you don't play the discounted graphics game and if you view your installation time as a valuable, skilled service. In some cases, a 200%, 300%, even 400% markup on the produced graphics themselves is achievable, in addition to an installation rate of $80-$100 per hour.
Design time to create the graphics package also might be another needed client service and usually commands fees similar to the installation rate.
Start at the beginning
Of course, one usually has to be graphically skilled to ask the kinds of markups and fees mentioned above. Perhaps the most important advice I can give someone who is contemplating a commercial vehicle graphics biz is to not assume that you are an artist. You may have great taste, a good color sense and have a definitive understanding what cool is, but those things might not a graphic artist make. Fun and easy consumer-creativity software has convinced some that effective, balanced commercial graphics are easily within their or anybody's reach when the reality is that most who are successful have had years of  formal graphics art education and/or years of  studies and experiences in the Hard Knocks School of Vehicular Graphics Arts. Like any skill, you likely just can't jump into it. Do you know rules of kerning, what negative spacing is, or can you explain color values? If you can't answer to the affirmative on these questions, that would not necessarily be an indication that you can't operate a successful fleet graphics shop. Rather, it might mean that you may need to hire or partner with a more creative person who does have an understanding of such things. You also have the option of subcontracting out the design aspect to a graphic artist in your area, using him or her as a personal service bureau.
For your creative department to be competitive, you'll need sign software such as FlexiSign or SignLab, plus any or all of the following: CorelDraw, Adobe Illustrator and Adobe Photoshop. Consider clip art libraries as invaluable, time-saving tools whether you are graphically challenged or proficient. Themed clip art libraries exist for just about any subject you can imagine, and you can never have enough.
Think standard graphics, lettering
As far as equipment, start-up costs for a fleet graphics operation could be at an all-time low. You already might have in mind a vinyl cutter, and you'd be correct to consider such, but it should be made clear that in terms of marketable 21st century graphics packages, a vinyl cutter alone won't … well, cut it.
You'll probably want to think about ink; as in an inkjet printer. Not the little one sitting next to your computer, of course, but a larger format, sign industry ink machine that will print on a variety of films and media. These are the printers that produce those huge bus and truck wraps that you yourself may be producing some day.
Not that you should necessarily jump into complex wraps initially. "Wraps" is a term that with some has become synonymous with any kind of vehicle graphics or truck lettering. A wrap in its pure definition is really a graphics package that truly wraps around and covers body panels, oftentimes fully covering the vehicle, roof included, or sometimes just partially covering the vehicle. You will do wraps and enjoy their high degree of creativity and profitability … someday; but for now, we'll suggest that you start off by tapping into what is probably still the majority of the market: standard flat-type vehicle graphics and lettering.
Machinery at your service
Large-format printers are manufactured by companies with more familiar household-type names like Canon, Epson and HP, as well as less commonly expressed names such as Graphtec, Mimaki, Mutoh and Roland. A Web search will produce many more makes, some new to the game, some with experience. Sign supply companies are the typical distributors of these.
For producing commercial vehicle graphics, the most important feature could be print-and-cut, rather than a machine that only prints. The alternative to a print-and-cut all-in-one solution is a workflow system, whereby you can remove your graphics from the printer and line them up in a specially equipped vinyl cutter, using sign software to register the needed cuts. Either way, hand cutting your printed packages, especially when you're talking about a fleet job of multiple vehicles, can be a daunting, time-consuming and, therefore, profit-destroying task.
Typically these large format printers are, well, … large, as in 8′ or 10′ long; and this size machine, one that can handle a 48″ or 54″ roll of automotive-grade vinyl is what you could use to produce a full-wrap package. But for someone who wants to go incrementally and begin a little more cautiously, what may be the first of a new generation of smaller printers is available from Roland. My experience with the Roland VersaStudio BN-20, a table-top print-and-cut machine with a usable area of about 19″ in width has shown me that it can be a viable way to get into commercial vehicle graphics in a way that allows you to look before you leap. While it might not be practical to do full wraps with a printer of this size, it nevertheless is sized right for many more traditional vehicle graphics layouts. It even prints metallic colors if you want, which can allow you to further upsell the cool factor while increasing profit margins even more. Several of the jobs pictured in this article easily could have been produced on such a machine.
A qualified sign equipment supplier will be able to help you with other needed supplies and equipment, such as a laminator, to help increase life expectancy of your graphics.
Ink: The medium makes the message
On the subject of graphics life, most manufacturers of solvent-based inks -" the type you likely will use -" promise at least three years durability with five years often being a realistic time span. Of course, maximum life also can be assured by using premium, vehicle-grade cast vinyls and laminate films. Cheesing out in this area can come back to bite you.
When you're all set up, you won't have to look far for your first customer -" it'll be you. The best, hands-down, most effective way to promote a commercial graphics biz is to do some of your best work on your own shop vehicle. That holds true whether your shop vehicle is a cool restyled truck or a compact car. I can assure you from experience that an effective graphics package will sell for you, and, like me, you will have people stopping you for your card and info. It also will signify to prospective clients that the same benefits will hold true for their business. You can even mount a wind-protected business card holder (again, available through sign supply warehouses) to your vehicle so that your vehicle will market to potential fleet customers while you're shopping inside Costco for your 100-lb. pack of Saltines.
Yes, there's help where you need it
What, though, if you're the type who's afraid of success? Do you turn down a large fleet because the company or municipality might have trucks spread throughout an area, or even at national locations? The Professional Decal Application Alliance (PDAA) is among the organizations that can direct you to an installer of vehicle graphics located in almost any area. The certified men and women of PDAA will be your local representatives making it manageable to handle national, sometimes even international, accounts. Many graphics producers even use these qualified installers in their own local area in lieu of an on-staff installer.
If your head is still filled with lots of graphics-type questions, then maybe we actually accomplished the goal here. After all, we can't teach you everything there is to know about fleet graphics in just a few pages. Indeed, after decades of dressing up commercial vehicles I'm still learning on a daily basis. Hopefully, though, we got you interested and pointed north for a profitable fleet graphics operation.