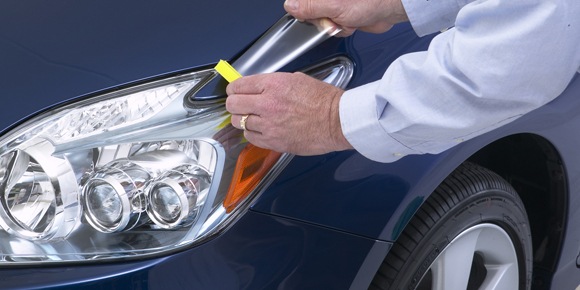 Forget the poor economy of the past couple of years…
PPF still making profitable, big hits in the aftermarket.
The paint protection film (PPF) market continues to expand in consumer popularity. We can justifiably say it is now no longer a new product category but is entering its next generation. Many restylers have increased their marketplace demand and are actively developing their installation skills. In addition, manufacturers are progressively changing their films to make their products even better.
What do the manufacturers have to say about the current state of the market? Where is it headed? How about product development?
2011 wrap-up, 2012 outlook
Reports from manufacturers indicate 2011 was a good year. Despite what seems to be chronic bad news about the economy, the PPF market segment has shown it has tremendous strength. Certainly, during times of a tight economy, people tend to purchase carefully but will spend on things that have high perceived value. Protecting a sizable investment such as an automobile or truck with PPF becomes one of those decisions consumers can justify because there are two things at work: emotions and logic. Emotionally, everyone wants his or her ride to stay nice looking. There is a lot to be said about pride of ownership. That has to be backed with logic, and PPF is a product that can satisfy both in the buying decision.
Eric Keller, Expel Technologies, San Antonio, Texas, offers these comments: "The trend for the industry is that people recognize the value of the product. At the dealership level, there are more inquiries both to our installers and directly to us. There is improvement in our product – Xpel Ultimate [for example] is now in the market. More of the same for 2012 – acceleration in the market, with double digits going forward. Our sales are up 40% quarter to quarter." Xpel's Ultimate PPF is a product with the ability to self-heal; and Keller reports the product is a "hot seller."
Xpel's experience echoes throughout the industry. Michael Beaver, national sales manager at 3M Automotive Aftermarket Division, reports that "2011 was certainly a good year and we expect 2012 to be even better. New-car sales are on the rise and this creates more opportunities."
Interestingly, 3M reports a notable rise in the number of installers who are coming for training. This is also an indicator of more product awareness from consumers, which fuels demand and in turn brings more business through the doors.
Clayton Tomasino, Scorpion Protective Coatings, Cloverdale, Ind., also observes that people are keeping vehicles longer and want to protect resale value.
Naturally, PPF is promoted as a product for "leading edge" areas, but it is noted there are many other areas of the vehicle that can be protected from scuffing and abrasions. This means increased opportunities to build incremental sales with customers. It also allows car dealers to upsell customers on even greater levels of protection.
At Acton, Mass.-based The Haartz Corp., Gordon Goodwin sums it up well. "We expect 2012 to be even better as the market segment for paint protection film is still in growth mode," he says.
And Phillip Novac, director, Marketing & Business Development for Strongsville, Ohio-based Avery Dennison Designed and Engineered Solutions, says, "2011 was a good year. Interest in PPF increased and OEMs are putting the product on more cars. Originally, PPF was assigned for very high-end models, and later for low-profile cars, including sports cars. 2012 should be a good year because you are now seeing PPF on many makes and models. OEMs are installing it strategically on areas such as the rear bumper, top surface, so when you pull your suitcase it doesn't scrape the top of the bumper. They are also putting it on rear quarter panels to guard against stones coming up from the tires and chipping the paint."
"Look for expanded PPF usage throughout the aftermarket, as well," Novac adds. "It's being accepted at more and more dealer locations and consumers are becoming more aware of the product."
What about material cost?
Naturally, everyone always is concerned about price increases and the effect it has on the market. While it may seem that PPF is pretty much straightforward, improvements in the product will certainly increase demand but also will allow for higher prices for premium products.
All manufacturers report they have made considerable effort to keep prices from increasing during 2011. The reality, however, is that prices are affected by many factors: The cost of doing business continues to rise, as does the cost of raw goods, regulations, etc. These all factor in and before you know it upward pressure on prices in inevitable.
Says Avery's Novac: "We anticipate that price will rise somewhat, simply because the technology is improving. There are now newer and more sophisticated coating processes. That type of product evolution naturally leads to a higher price."
Growth in the installer base?
Suppliers are seeing the ranks grow as tinters, body shops and detailers are discovering this is a good profit center to add to their mix. This is one of the interesting areas reported by our respondents.
Suppliers naturally welcome this swell of interest. But it comes with a caveat. Notes Xpel's Keller: "Word of mouth and referrals are helping drive this as installers talk to each other about it. We want to protect our brand and our reputation. We don't want everyone, because if an installer isn't doing enough installs then their quality level/skill level will not be high enough."
3M continues to advocate for training and certification. "Since PPF installation, like any automotive film, requires an artistic ability that takes time to learn and cultivate, 3M believes strongly in education and certification," says Beaver of 3M. "Installers should have access to effective education and be formally recognized for their installation capabilities. We plan on a continued focus on the development of our endorsement and training program."
While suppliers support the idea of certification, the jury may be out in the consumer's mind. Says Goodwin from Haartz: "It's a real mixed bag when it comes to certification. Most customers seem to be neutral on whether or not their installer has some sort of certification. Haartz offers training and certification programs for installers through our distribution network, but in the end it really boils down to a quality installation by an installer that will stand behind the product and his or her work."
Avery's Novac notes that, "We saw a drop in installers in 2010 and 2011 because of the economy. But we anticipate a reversal in that trend during 2012." And as for certified installers, he says, "The primary benefit of certification has to do with preventing warranty claims. Certified installers are trained in application procedures that help assure dependable product performance. An example: A certified installer will know how to seal the material's edges so it stays stuck."
Indeed, no manufacturer wants to have poor reports from consumers because of dissatisfaction with a product. By its nature, PPF is not a DIY product. The consumer must rely on an installer to do the job – but that's where the manufacturer's reputation is left in the installer's hands. Thusly, manufacturers are all behind the idea of good training for their installers.
Precut or bulk?
What about bulk PPF vs. precut when it comes to installation practices? This is an area where regional preferences seem to come into play. It also involves the skill level of the installer, as well as market size and ability to invest in equipment and inventory.
There are still many hand-cutters out there. They swear by their methods. However, the availability of precut patterns, cutters and bulk film make this the usual genesis for installers. Prior to that, many installers chose to purchase pre-cut kits from a supplier. Says 3M's Beaver: "Pre-cut kits represent the majority of what is installed in the marketplace. Software and plotters are convenient and accessible. In addition, pre-cut kits allow for consistent repeated installations, whereas bulk installations are unique to each installation."
For those installers desiring to build their market, it might generally make sense to use precut kits from a supplier. As business grows, a logical step could be an investment in a cutter and bulk film. In my experience as a business consultant, I often find small businesses hold themselves back because they lack capital. However, the eighth and ninth wonders of the world, in my opinion, are Section 179 deductions (consult your tax adviser) and three-year $1 buyout leases. Your friendly banker can direct you to their leasing department. Businesses with some track record and a good rapport with their bank often can qualify for extremely favorable terms on equipment. Assembling a high-quality cutter, a robust computer and some bulk inventory can be accomplished by a skilled leasing consultant and rolled into an easy-on-the-budget three-year lease with a $1 buyout. Your monthly cost will be low, you'll hit the ground running and you can develop your market with confidence that you have the equipment to do the job right.
Product genesis
At first glance, what can you say about PPF as a product? Like all adhesive-type products, it is primarily a film with glue on the back. It might sound simplistic, but the reality is there is a lot going on in "them thar' molecules."
Installers want product that makes their job easier. PPF needs to conform well, stay adhered when it's time to do so, and not be a source of a problem with complaints from the end-user. Scorpion's Tomasino puts it in a nutshell: "PPF manufacturers are looking to improve their materials every day. Easier installation and much cleaner look." Goodwin of Haartz elaborates: "Product enhancement is an initiative that is ongoing with the Haartz DefenZallâ"¢ product. We are a totally vertically integrated manufacturer, so we have the ability to modify any and all aspects of our product from adhesive to urethane and clear-coat formulations. Wider widths, improved conformability (ease of installation), gloss retention and smoother (reduced 'orange peel') surfaces are demanded by the market and we've made improvements to our film to meet these needs. The industry continues to look at enhancing other properties such as scratch and UV resistance."
Novac of Avery says, "You will continue to see less texture, less 'orange peel.' You will also see more durable coatings. Avery Dennison Paint Protection Film with Nano-Fusionâ"¢ technology is a prime example of the next generation PPF. Avery Dennison PPF with Nano-Fusion technology offers better stain resistance, better resistance to yellowing and better conformability than existing top coats in the market today."
3M, like the other film makers, strives to advance product improvement and innovation. It's what has driven the company for more than 100 years. Does the company see changes? You bet it does. Beaver tells us, "3M keeps this 'close to the vest,' but we will always seek improvements and we have a very focused list of what we want to bring to the industry on our next product evolution."
For Xpel, there is a bottom line regarding product development and improvement. "We continue to innovate to do whatever we can to make the installer's life easier," Says Keller. "The most important thing we all can do is produce a product that satisfies the consumer and increases their perception of value."
What about promotion?
One single, big area of problems in the restyling industry is generating consumer awareness. No manufacturer singly possesses the finances to mount an ad campaign that will broaden a market. Hey, we're not Budweiser here; multimillion-dollar ad budgets are definitely not the domain of the restyling industry. That doesn't mean companies aren't aware of the need to build recognition in the marketplace.
"Manufacturers are interacting with end-user consumers through social media and working with the dealers directly, says Avery's Novac. "Companies like Avery Dennison offer programs that consist of promo materials and displays. We also supply sample kits so an installer can apply PPF to a car in the showroom. This helps the dealer sell PPF to the end customer."
3M is well-known for its presence at trade shows and in trade publications. It also uses its clout in the automotive industry to increase product awareness at the OE level. The manufacturer also assists its installers by giving them access to marketing resources, online endorsements and assistance from outside sales representation.
Xpel has another avenue it pursues. Keller tells us: "Online, social media. Living where the user lives. YouTube is useful for us. We also work to get the word out to end-users."
"The auto industry addresses vanity," he notes. "Our product category needs to meet that need for the consumer. We try to remove the thought process about using waxes and polishes with petroleum distillates, for example. User error and improper maintenance are two big problems that lead to yellowing and product failure."
Scorpion likewise uses online media such as e-mailing and website content.
While all suppliers can also provide banners, product literature, POP displays, etc., it still boils down to one thing, according to Haartz's Goodwin: "There is also no substitute for excellent service and warranty programs."
---
What's the single biggest application secret?
Application techniques. This is always an interesting part of any discussion I have with PPF installers. Wouldn't you love to walk down the aisle of the local Home Depot and have a light bulb moment where you discover a tool no one ever thought to use that would make all the difference in the world? Well, so far, no one has told me of any such thing, that's for sure. Until now.
An interesting tip comes from Xpel's Eric Keller. "Take time to 'read' the surface before you start. Know where all the bumps and creases are. Make sure there are no surprises, like damage to the surface or a contour you never encountered before. And don't squeegee where your hand has been."
All of our suppliers recommend some very simple things: 1. Patience. 2. Cleanliness. 3. Patience. 4. Good training. 5. Patience. 6. Know the product. 7. Patience. Did we mention patience? As 3M's Michael Beaver points out, "One you can't teach but can learn: patience."
And Phillip Novac of Avery Dennison offers this: "One of the most important things to know about applying PPF has to do with the soap mixture used to float the material in place. Without a proper and sufficient soap mixture you risk deadening the adhesive if you pull the material up to reposition it."
It's certain the PPF industry is thriving and growing. With good support from manufacturers and increased installation skills in the marketplace, consumer confidence and demand will continue on the rise. There's a bright future for this category in 2012.