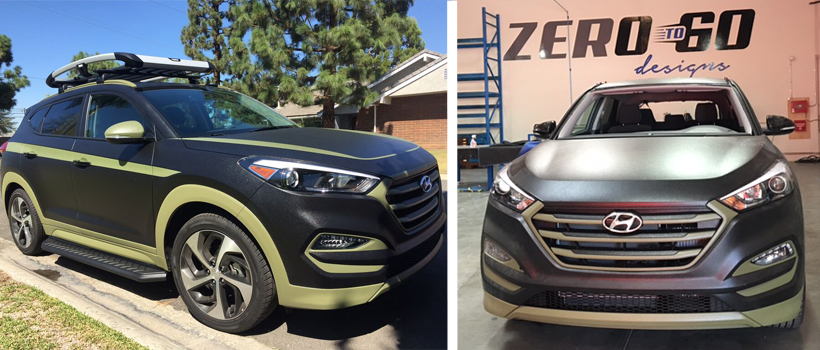 Some may remember FearOne Owner Roger Tessman as the long-haired drummer-turned-project-vehicle-builder. But for Sean Tessman, he's better known as dad.
Sean has been part of his father's business from the very beginning in 2001. Reflecting on his involvement over the years, he said it has only brought them closer.
"I mean, who gets to do these kinds of things with their parents? I look forward to (SEMA) every year," Sean says. "When my father launched FearOne, he didn't feel like he could do the type of things that he does, but here he is now receiving $50,000 cars for a dollar, shaking hands with Chip Foose and having the late George Barris sanction a build. It's a special thing to see how far he's come and that I get to be a part of that, too.
"It gives us something to do together that we're both interested in," he adds. "I think that's the biggest part of what we do-"putting likeminded individuals together to take a vision and execute it."
Sure, a well-manufactured product goes a long way, but Sean will be the first to admit the importance of the people behind them.
"We don't just partner with companies that make quality products," he said, "we're partnering with people that are striving to be better, to do more and to grow with that market, which is ever changing."
Of course, this approach is like that of most other shops in the industry. What is the difference here?
Although it's surely a full-time job getting to SEMA, FearOne is not Roger and Sean Tessman's bread and butter. Sean actually works for SimonMed Imaging, an organization that offers diagnostic imaging for early cancer detection. What money they do make off their project vehicles, they donate. So for Sean, FearOne is a way for him to build relationships, not a bank account.
"We'd be sitting here with a stock vehicle if it weren't for our sponsors, which is why we like to pay homage to them rather than talk about ourselves," Sean said. "They've launched us onto a whole new platform and we've built some pretty solid friendships out of those partnerships."
Though their list of supporters is growing, Sean says FearOne is able to maintain the relationships by consistently delivering.
"When sponsors commit to a build that we're doing, they want to know what's going on. We always under promise and over deliver. It's the communication, the constant contact and updates that we provide-we're doing the additional things that aren't necessarily in the contract."
"Quite frankly, I think our builds speak for themselves," Sean adds. "When you're not a big-name company-like Rockstar for example, who has hundreds of millions of followers and everyone knows their name-you have to make up for that in what you create."
FearOne will continue this philosophy with the company's 2017 SEMA build and partnership with ARIES for the Pro Builder Program.
Last year's build, which was featured in the Covercraft booth, was a Hyundai Tucson Urbana. Sean said that platform for the build was to make the vehicle rugged and dependable for the off-road, but still be something that could drive the street. They partnered with LINE-X for the project, which placed in the top 10 in the off-road category at SEMA.
Already this year, the car has won best in show at the Northern Arizona Off-Road Expo in the On-Off Road class. All earnings were donated to the Susan G. Komen foundation.
FearOne will attend several additional shows with the Tucson Urbana to fulfill the company's contract with SEMA.
Plans for FearOne's SEMA build for this year's show have not yet been confirmed.
"We have several proposals put into Hyundai, but it's kind of a new process every year," Sean said. "It comes so quickly, there's so much work to be done, and unfortunately you usually don't get the vehicle until about a month and a half prior to SEMA. But that's what makes it fun-a little bit frustrating at times, but always on the upside of things as far as it being a fun project to create."