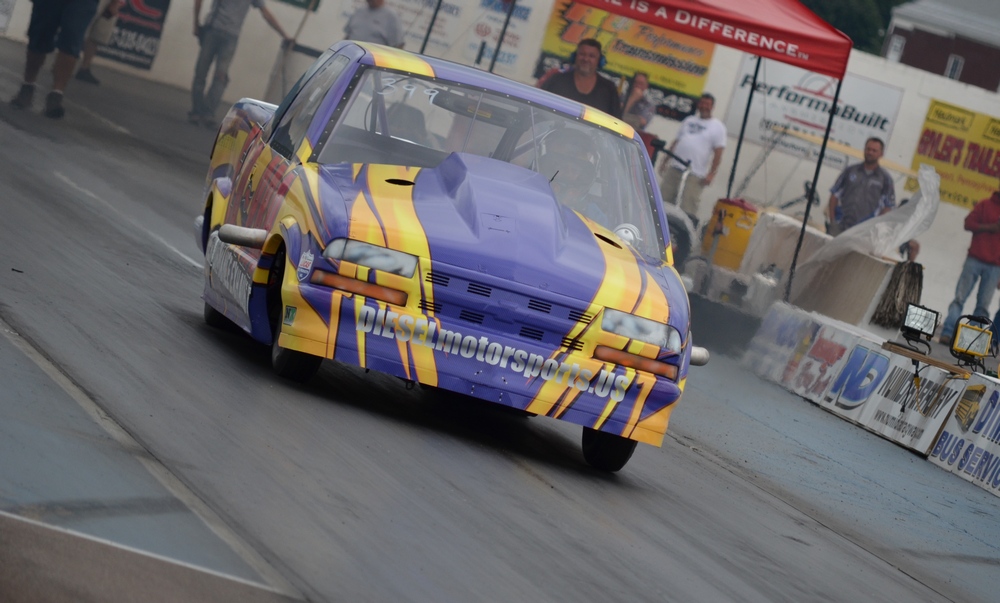 When NGM Diesel Performance's Flo-Pro Duramax truck snagged its second National Association of Diesel Motorsport's (NADM) world record in 2012, driver and engine builder Wade Moody figured the 2002 Gephardt Pro Stock S-10 had just completed an average pass.
"Chris, the crew chief, came rolling up in a golf cart, and he was straight-faced as could be…" Moody says. "Then he grabbed me and squeezed me and said, 'Man, you just set a world record!' I was just so thankful because we blew the old record out of the water, and it was great to be a part of that."
Featuring an NGM Diesel-designed and built all-aluminum Duramax engine with clean burn technology, the Flo-Pro-sponsored truck swept the Pro Stock series and set more world records with a 7.58-second run at 181.4 mph during a 1/4-mile pass and a 4.90 at 146.5 mph during a 1/8-mile pass.
But that was just the beginning for Mechanicsville, Md.-based NGM Diesel Performance, a high-performance diesel engine-building business with its own race team. Co-owned by Moody and Matthew Miller, the shop sells everything diesel related, but specializes in components and custom engine packages.
Clean Diesel Specialists
In 2011, NGM's Pro Stock truck became a NADM Pro Stock Champion and achieved its first NADM world record with a 7.87 at 171 mph during a 1/4-mile run. The truck-which features Industrial Injection cylinder heads, injectors and CP3 pumps, NGM Diesel-designed valve train and camshaft, Industrial Injection/BorgWarner Turbos and custom tuning-is capable of reaching 1,500-plus horsepower.
And, the world's fastest diesel Pro Stock truck is also a model of efficiency.
"It is geared toward green technology, being able to make something that is usually thought of as inefficient and dirty and showcasing it as clean and efficient. To be able to make a racing vehicle burn clean and be very powerful is an awesome thing," Moody says.
Miller adds that when people usually think of racing diesel engines, they think of a steady stream of black, sooty smoke from start to finish. NGM's racer is smokeless from launch to finish, and runs on regular pump diesel fuel.
"We took on a pretty big project and were able to put our heads together and combine something that is highly efficient, powerful and clean, and prove it on the race track," Moody says.
Although the engine's fuel might be simple, its engineering is not.
Racing Engineers
Moody and Miller were friends long before they became business partners; the duo met in middle school and grew up together in Maryland.
When Moody realized how difficult it was to find a dealership that could provide him with proper service for his diesel truck, he started NGM Diesel out of his parents' garage in 2004. When Miller returned from engineering college, Moody was just starting to dive into the diesel industry, and the two began putting their ideas together about diesel engine innovation. Miller officially joined the business in 2012 after working for years in the field of mechanical engineering.
It was important to them that it be a Christian-based business, Moody notes. "We believe that through Christ all things are possible. This motivates us to pursue goals that are impossible, according to others."
NGM Diesel didn't always focus solely on engines. From exhausts to programmers, Moody says the company did a lot of things, but moved in a different direction as the economy changed, and eventually found its niche in the high-performance diesel engine sector.
Moody named the company when his son, Nathan Garland Moody, was born in 2006. Now, NGM Diesel Performance is solely operated by Moody and Miller in an 8,000-square-foot facility with a 1,000-square-foot service bay and 7,000 square feet for research and development, manufacturing and machining.
Because the majority of the shop's business comes from word of mouth, not walk-ins, the shop doesn't have an actual storefront.
"We don't have a huge stocking inventory, and we can't usually cater to walk-in customers while we're working on engines or components, or doing research and design for other companies," Moody says.
Customers can still bring vehicles into the shop, and depending on the work that needs to be done, the team can usually turn them around in a shorter time than it would take to build a complete diesel engine. However, Moody says, "dirty" engines also require cleaning, disassembly and inspection, which takes time.
"And then from there, you talk with the customer about their goals and explain the wear pattern that we saw and the changes that would need to be made in the future. So, it's kind of like an assessment that a doctor would give you when you're sick," he says.
And Moody and Miller's dual backgrounds definitely give them an advantage when it comes to diagnosing problem engines, innovating better, faster motors, and evaluating the race truck's performance.
"We collect a lot of data for every pass, (but) data's useless unless you know how to analyze it and make changes based on it. So that comes into play a lot as you go on," Miller says of their racing operation.
Always the Perfect Fit
Moody says a typical engine job, which would be a street-friendly, towing-style 500- to 600-hp engine, can be done in three to five weeks, but more highly detailed engines with more horsepower capability take several weeks.
And prices typically vary from project to project.
"All of our parts are thought-out and designed to work flawlessly with each other, so that they're matched together and we get the maximum efficiency and power," Miller says. "We've done 70 to 75 passes without any major failure."
Moody and Miller make it a priority to help customers see the "greater picture" and offer the processes necessary to ensure a long life for their customers' engines, whether on the street or at the track.
"A lot of people have this mindset that all you have to do is throw an exhaust or air intake or programmer on there and it's going to work and be effective for you for the whole lifespan of your vehicle," Moody says. "And that's actually not true. There are a lot of things that have to go into the thought (process), like matching the parts and making the combustion process efficient, and that's where we go into detail with the piston design, the profile of the camshaft-"to make sure all of these components work together efficiently."
True industry pioneers, NGM Diesel's clean diesel engine designs are the first of their kind. As a result, the engine's parts and components such as the pistons, aluminum blocks and rods are often customized, so the company sends its in-house designs to manufacturers to create.
"We submit a design that they take to their engineering department to start manufacturing and producing what we request," Miller says.
He notes the company also sells parts that it has designed, tested and proven dependable. NGM Diesel's new website (www.ngmdiesel.com) will allow customers to order its parts, including a variety of bolt-on diesel engine components, and highlight its engine packages.
"We don't just build complete engines; we also outsource our parts to other vendors," Moody says. "We sell our business to other businesses because not everyone wants to buy a complete motor from us. They want to buy our components and build their own engines, and we serve them as well."
Moody and Miller also value the support they receive from manufacturers such as BorgWarner Turbo Systems, Industrial Injection and Flo-Pro Performance Exhaust, among many others.
The Drawing Board
For Moody and Miller, building a custom engine starts on paper. They take the customer's goals and determine what it's going to take to meet them.  After the drawn-up design is approved, specific parts are ordered for the engine, and the engine block and heads are critiqued and modified to their fullest potential at the machine shop.
"Once the parts and engine components come in, we start assembling and check and double-check all of the clearances and make sure everything is torqued properly. When it's finished, we'll wrap it up, put it on a crate and out for shipment," Moody says.
Ninety-five percent of NGM Diesel's orders come from out of state. In addition to breaking NADM (now known as DIESEL Motorsports) world records, its engines are also turning heads in dyno and sled-pulling competitions across the U.S. One customer reached 1,900 hp with one of NGM Diesel's engine packages, while another was able to pull over 400 feet during a sled pull (a typical pull is between 320 and 330 feet).
And the record-breaking Flo-Pro Duramax Diesel Pro Stock truck, which was also featured in the Flo-Pro booth at the 2012 PRI Show in Orlando, is scheduled for eight races in 2013.
'We Race What We Sell'
"We test everything in the real world. There's videos and proof all over that we race what we sell, and what we claim we can do, we go out and do it. People do not believe it's a diesel engine in the way that it sounds," Miller says.
Moody bought the then gas-powered 2002 Chevrolet truck with the intention of doing some advertising for the business through racing in 2008.  He started work on the chassis first, moved on to building the engine in 2009 and was ready to put the truck on the track in 2010.
"I realized I didn't want just some run-of-the-mill engine; I wanted something that was going to make a statement and something that was going to run with efficiency and reliability that nobody had seen before," Moody says.
Within 20 passes, the Flo-Pro Duramax Diesel Pro Stock truck was No. 2 in the world. Officially assembled in 2012, the NGM Diesel Performance Race Team consists of Moody as driver, Miller as team manager, Chris Crafts as crew chief and Cory Miles as crew hand.
"The business model we've followed so far is that we've invested in the race team as our marketing. We very well could have invested that money into in-house capabilities, but we've had relationships with other companies that have been able to produce things out of house, and we've been able to invest in our racing. It's worked so far," Miller says.
Although NGM Diesel's successful racing career has put the engine builders on the map, Moody and Miller admit it has been difficult to juggle running a full-time business with family time and racing. Between races, shows, maintenance and testing time, Miller says the race team can spend more than 12 weeks away from home throughout the year.
"It's a distinct juggling act, and you have to act accordingly. You have to give time to your family. Family is very important to us, and you have to give that time where it's needed, so we have to limit what we do at our business and limit time for racing," Moody says. "Thankfully we've been blessed with wives who are understanding."
Forward Thinkers
Moody is confident that the next two to three years will be a new era for diesel engines and is excited to see growth in the segment as technology continues to advance.
"I think you can see how much potential there is in the diesel engine when a shop our size is able to go out and be one of the fastest in the country; that's highly indicative of the amount of potential in a diesel engine," Miller says.
He notes the shop plans to enhance its in-house capabilities in the future and bring in an engine dyno. He is excited to see more competition for the NGM Diesel race team in 2013, which he hopes will bring about additional investments in the technology and into the sport of racing as a whole.
"We're going to keep pushing forward. We have goals to win every race that we go to this year and set an even deeper record," Moody says. "Advertising is part of it, racing is part of it, but we also want to continue to support our sport. We believe that diesel technology, diesel racing and diesels in general are something that are going to be at the forefront of what we are going to need as a nation to conserve fuel and have more efficient power."