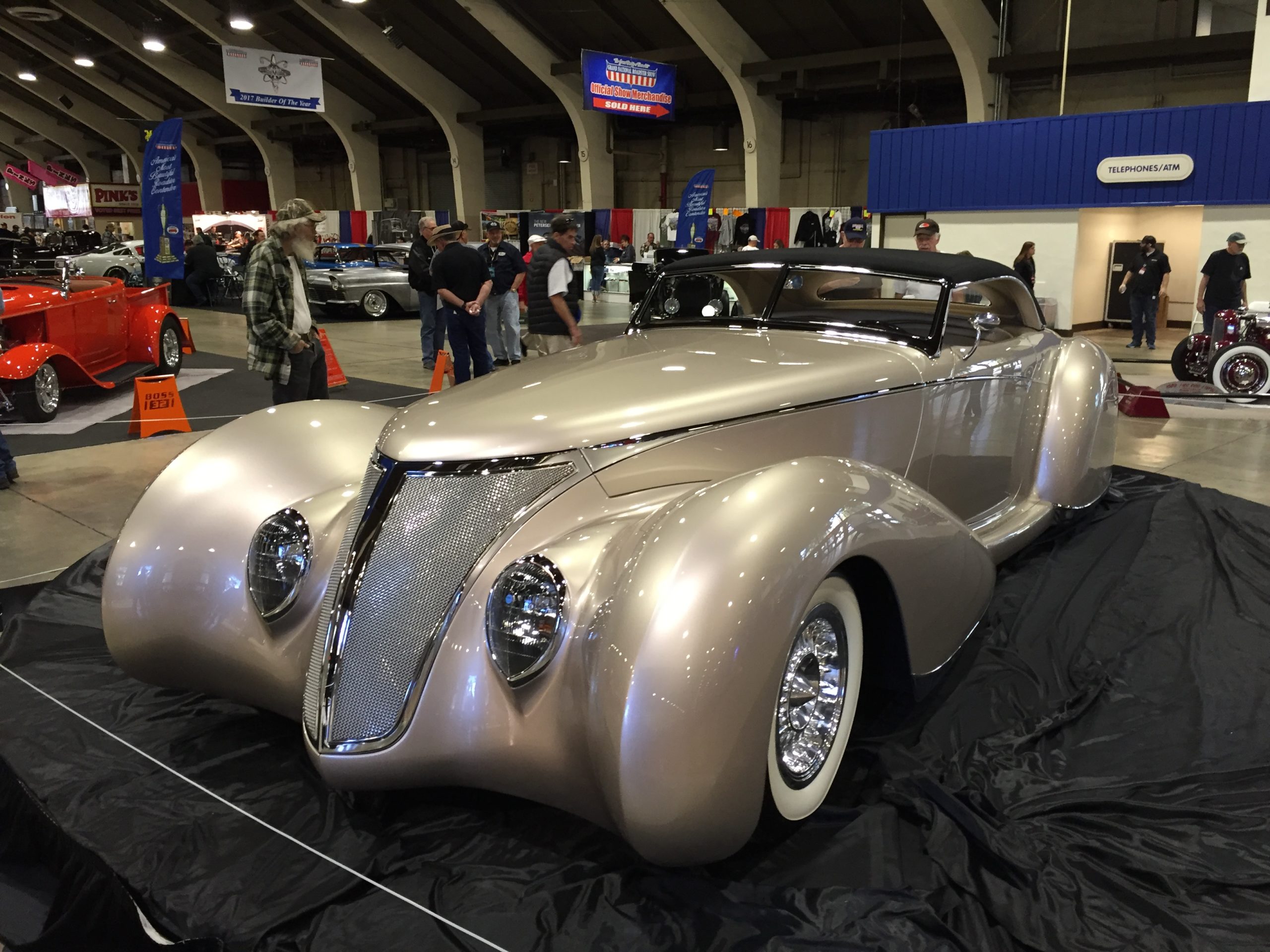 Now in its 69th year, the O'Reilly Auto Parts Grand National Roadster Show presented by Meguiar's has staked its claim as the Grand Daddy of indoor cars shows, having begun in 1950 in Oakland, California.
The show upped sticks and moved south to the Fairplex Pomona in 2003, where it has enjoyed steady growth under the leadership of promoter John Buck.
Besides being a great show, one of the reasons for the event's success is location, location, location in sunny Southern California, attracting car fans from all over the world looking for a car-centric winter vacation destination. I spoke to Australians who flew in to hit the Turlock Swap Meet, 325 miles north, the Long Beach Hi Performance Swap Meet 40 miles south and the GNRS, all in two days. (They purchased so much they had to buy a trailer to take it all home!)
Believe me, the GNRS is a selling show. Hundreds of vendors selling everything from T-shirts to complete cars filled the nine display halls that, along with 500 show vehicles, pack the 300,000-square-foot indoor space to capacity.
The outside was equally busy. Chevrolet and Ford had corporate displays and companies such as Brookville Roadster, Coker Tire, Edelbrock, Galpin Auto Sports (GAS), Griot's and many others brought in huge display rigs.
In fact, GAS displayed some of the most iconic show rods of all time including Ed Big Daddy Roth's Orbitron, the Pink Panthermobile and, debuting this year, Roth's '56 Ford F100 recently restored by Dave Shuten at GAS.
As this is a consumer show, many attendees come to buy looking for show specials and to save on shipping costs. I spoke to Mike Herman of H&H Flatheads who said, "We typically sell one or two complete engines. It's a good venue for us."
Mike's a dealer for Stromberg Carburetors and Clive Prew, the owner of that company, flew in from England just for the show. "We're introducing new Flathead distributors and this is the perfect venue to debut new hot rod product and gauge reaction," he said.
I also spoke with Greg Dravis of MightyImageKustoms.com, makers of vintage-style signs and neon. Greg said, "A strong show, my best ever, with steady traffic and excellent sales."
Builder of the Year was Steve Strope of Pure Vision Design, Simi Valley, California. Steve had on display three amazing cars: Ed Chalupa's '67 Fairlane that won a Ford/SEMA Design Award in 2010, Karl Williams '65 Martini Mustang that won the Ford/SEMA Design Award in 2012 and Bob Florine's in-process '57 Ford Del Rio wagon.
While built by Pure Vision, each of these cars was painted by Mick Jenkins of Mick's Paint, who also painted this year's winner of the America's Most Beautiful Roadster award. Built by Troy Ladd at Hollywood Hot Rods, Bruce Wanta's scratch-built supercharged, V-12-powered Packard roadster was six years in the making. Mulholland is an incredible piece of hot rod design and engineering with a retractable top that folds down into the trunk.
For builders such as Ladd, the GNRS provides a venue to display their car-building capabilities in a somewhat relaxed atmosphere, where customers and fans alike can talk to their customizing heroes.
Indeed, there were many in attendance including Rod Brizio, Zane Cullen's Cotati Speed Shop, Hot Rods by Dean (Livermore), Rad Rods by Troy (Trepanier) and, of course, SO-CAL Speed Shop.
This year was bittersweet for SO-CAL, as the company's president, Pete Chapouris-who had a distinct and positive influence on the GNRS-had just died and, consequently, there were numerous tributes including a display of his iconic '34 Ford hot rod The California Kid. Chapouris was a GNRS judge for many years and it was sad not to bump into him on the show floor.
Building 9 is usually dedicated to special displays and this year the whole hall was wall-to-wall with 1955-'57 Chevys in celebration of their 60th anniversary. Seeing so many Tri-5s in one room was a bit overwhelming, but exhibit organizer Chris Sondles of Woodyz Hot Rodz said, "Next year, we plan and even bigger outdoor display." Chris also organizes the Tri-FiveNationals.com about which he said, "We're expecting more than 3,000 cars at Bowling Green this year."
Coming up on its 70th anniversary, the GNRS more or less kicks off the indoor show circuit, remains an impressive industry showcase and can genuinely live up to its name The Grand Daddy of Them All.