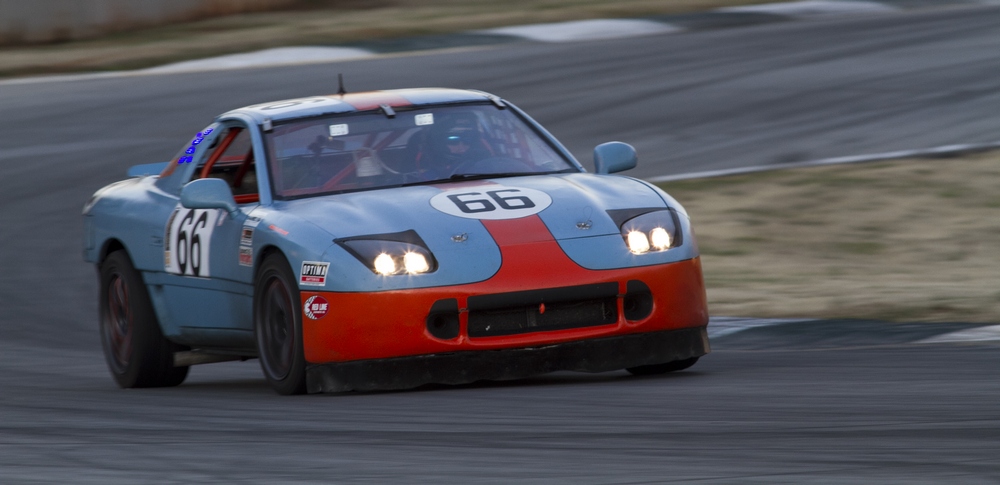 Top photo courtesy Halston Pitman | MotorSport Media | www.racemsm.com
As Monty Python says, "And now for something completely different."
The Optima Batteries ChumpCar World Series (no, that's not a typo-it's Chump) is just that-different.
While racing is the goal, it's how they do it that is so unusual. It's easy to see they are having some real fun with this.
The biggest headlines on the ChumpCar homepage (www.ChumpCar.com) read, "Real Racing, Real Tracks, Real Cheap Cars." And the newest announcements are shown duct-taped to the page.
The series' biggest event has the distinction of being the longest closed-course endurance road race in North America-the 25:25:25 (25 hours, 25 minutes and 25 seconds). And this year, they are going for 36 hours.
So, who are ChumpCar racers? The site says, "ChumpCar is North America's home for REAL, AFFORDABLE, COMPETITIVE endurance road racing-¦We're talking endurance races that range from 7-hours to 24-hours long, and even longer!"
It goes on to explain the demographics. "This series is for gearheads; for people who love driving and driving fast. It's not about gimmicks or theatrics. Rather, it's for Chumps like you that have always wanted to go road racing without all the hassles or expense. It's about 'Joe Average' and almost-race-ready cars."
Many in our industry may have heard of the successful LeMons series. Some of the same cars can run in this series as well, but ChumpCar has been described as less of an event and more of a race-attracting car guys that will continue to invest in the car hobby.
That means a real opportunity for local speed shops looking to serve these amateur racers.
It sounds too good to be true, but John Condren, the man behind ChumpCar, explains: "There's really no magic to it. We want everyone to be a Chump. Everyone has the same opportunity."
But just what exactly is a Chump? Condren laughs and quickly says, "Someone who understands the enjoyment is in participation. A Chump is everyman."
Hit the Track
Condren should know. His involvement in racing goes back to the days when he would drive his Triumph Spitfire to the track, tape the headlights, slap on a number, race and then pull the tape and drive home.
He progressed in road racing, even up to Formula-5000 and Formula Atlantic, and soon found himself spending $5,000 just to get his SCCA Trans-Am Series car ready to race, "and it wasn't even in tech yet."
He soon had had enough and the Chump idea was born. That Spitfire atmosphere is what he wanted to recreate, and while he knows those days are long gone, he has come up with a very close replacement in ChumpCar.
Now in its fourth year, it is hugely popular with all levels of drivers. Over 100 cars took the green at Watkins Glen International recently, and Bruce Hanusosky was one of them.
"We were going three-wide through the esses and had a ball. And we were racing in the worst weather imaginable. Everyone ran clean and hard."
Hanusosky is more than just a Chump participant. His company, Bruce High Performance Transporters, is one of the growing number of ChumpCar series sponsors and the Official Trailer of ChumpCar.
With such a semi-serious approach to racing, why would companies get involved to the point of supporting contingency programs? Carlos Ruink from OMP America explains.
"The OMP Sport line is aimed at passionate racing enthusiasts looking for the very best gear on and off the track. That is why OMP Sport has a very strong and mutually supportive relationship with ChumpCar. We established a marketing and joint promotional agreement in 2011. Since then, we have been providing sponsorship support-advertising, branding and media promotion initiatives that could help both brands get the right exposure."
Patrick Utt from RaceQuip adds, "RaceQuip strives to deliver the best value in safety gear, priced low, but with high build quality. This philosophy fits perfectly with these entry-level racers. They want quality products, but they know they might only do one race, so they are very conscious of their investment in safety gear."
It's all about building a brand with a relevant audience, says Cam Douglass, director of marketing and product development with ChumpCar's Executive Series sponsor, Optima Batteries.
"We did a little research on the participants and found that an overwhelming majority of the guys and gals are in the automotive aftermarket business in a decision-making capacity. This was a built-in, target-rich audience of the very people we seek out to enlist as brand ambassadors. To support the development of these brand ambassadors, we actually provide one free battery for each team. We run our support rigs to the events to ensure onsite technical support."
A Love of Racing
Racing for the love and passion of the sport rings true with the vast majority of racers and companies that support ChumpCar.
"This will be Cometic's third year as a supporting sponsor," says Kevyn Kistner of Cometic Gasket. "We also have a couple of employees and local customers who race in the series."
Cameron Evans of Red Line Synthetic Motor Oil is a frequent ChumpCar competitor, and he understands the connections that can be made between participants and the products they use.
"Motor oil is a tough sell for any company, as there's a lot of product loyalty to certain brands including ours. But, what's much easier to sell in ChumpCar is gear oil for the manual transmission and differential, as well as our WaterWetter radiator additive. These teams are putting their cars through an unbelievable test. So many teams have hurt parts or not finished races on other products (and) then turn to Red Line to get it right."
With more than a dozen companies involved as officials ChumpCar supporters, there's a growing attraction.
"ChumpCar is a group of guys that are excited about building and racing cars as inexpensively as possible," explains Curt Perry of Chassis Engineering. "They are gearheads that love finding something that they can use to make (their car) better-pretty much like it was way back when hot-rodding and racing started. They are people that appreciate the efforts of others to find ways around obstacles without just throwing money at it."
Kistner from Cometic is good with that.
"The ChumpCar Series' biggest attraction is the affordability for the competitors. It allows the average person to get together with a few friends, build a race car, and then hit up a couple races a year without the need for a gigantic bank account or major corporate sponsors.  The series consists of racers with skill levels ranging from first-time rookies all the way to professional national champions."
It can be a steppingstone to higher series -¦
"The low cost is the most obvious advantage, but ChumpCar's next biggest attraction is the significant amount of seat time a driver can get," says Evans. "Most of the teams try to keep a driver in the car for between 1.5 and 2 hours. If you add that up over a Saturday race and a Sunday race, those four hours of track time are more than some might see in an entire season of track days."
-¦ or just a chance to compete on some famous courses.
"ChumpCar offers racing enthusiasts an opportunity to race tracks all over the country, from Laguna Seca to Daytona International Speedway to Watkins Glen, giving them more seat time for the money than any other amateur racing series in the country," Ruink explains. "You don't need major corporate sponsors or even a competition license to join the fun."
And Evans adds that some experienced racers are enjoying the move to the less-expensive ChumpCar series.
"They can have more fun with their cars, friends and families and know that there isn't a $20,000 sequential transmission purchase down the road," he explains. "It also allows pro teams to get mechanics and sponsors behind the wheel in a less-expensive car and on famous circuits. They do this alongside the locals, so it's a win-win for everyone. And the locals usually win!"
Join the Club
Many supporters of the ChumpCar experience appreciate its all-inclusive nature.
"As an experienced racer, I showed up at my first ChumpCar endurance event to drive a friend's car and I was surprised to find so many first-time racers," says Utt. "There were four to six drivers per car, which makes it easy to be an 'arrive-and-drive' guy. So when you combine so many low-buck cars being built with so many open seats, along with the best road racing venues in America, you have a winning combination."
And make no mistake-"it is real racing.
"ChumpCar provides the same basic adrenaline and competitive elements of what has now become a very expensive sport in a very affordable, approachable, safe and fun venue," says Douglas. "From the driver's seat, you aren't just driving a ChumpCar, you are racing."
That's, of course, no accident, Condren explains.
"Whether a team comes to the track with a $500,000 Toter-Home and trailer, or they come with a U-Haul flatbed trailer behind a 1978 Chevy pickup, what rolls off the trailer is the same basic $500 race car.  Everyone is a Chump; we're all the same."
That opportunity starts with a car that would normally sell in the U.S. or Canada for $500. Then comes the safety upgrades-roll cage, racing seat and harness, and fire system.
Cars have to be stock.  Teams can cut springs to lower the cars and replace worn shocks, but that's about it.  Upgrades to brakes are allowed, but they can't exceed the "2X Rule," which means the cost of brake components can't exceed twice what the retail cost is for a stock/OE replacement part.
In exchange, what does a racer get when he or she wins?
"They get a great-looking trophy. And ChumpChange," says Condren. It's the series' own funny money that's good for entry fees, transponder rentals and even ChumpCar T-shirts.
Not surprisingly the series attracts a wide variety of cars, meaning lots of opportunities for upgrades.
"The entire RaceQuip line is made up of value-priced items that ChumpCar racers need," says Utt. "We offer SA-2010 helmets, SFI-rated suits, shoes, and gloves. We also offer the items needed for the car, like window nets and mounts, tow loops, and SFI- and FIA-rated harness sets."
Perry of Chassis Engineering agrees that safety items are a priority for participants.
"Our involvement with local racers has been mostly on the safety side-roll bars, cages, safety harnesses and window nets. But, we do offer opinions and ideas to those that are looking for them. It is fun, because each car is different and that keeps you on your toes and your mind working to find a better way for these guys to accomplish what they are after."
Need for Speed
Of course, as with any racing series, once the juices start flowing, competitors begin looking for ways to gain a performance advantage.
"Cometic specializes in manufacturing high-performance MLS head gaskets and gasket kits," Kistner says. "We sell gaskets to racers who can't rely on OEM or standard replacement kits to endure the stresses created from endurance racing. We're selling them gaskets and peace of mind."
All this is made even better by the fact that almost all of the participating contingency partners pay their way with products the racers actually use. It's the ideal win-win program-the companies pay out product rather than cash, and the racers receive products so they can keep racing.
Even series sponsor Optima supports mainly with product, although it does also provide ChumpCar with funding for branding, signage and other series ID and promotion, Douglass notes.
With huge car counts and a multitude of drivers, the system keeps feeding itself. Kistner adds that Cometic actually provides product certificates to teams that just miss podium finishes.
All of this provides exciting opportunities for speed shops to service a large batch of new racers. To take advantage, Perry encourages shops to get involved.
"Chassis Engineering got into the market due to the fact that a local racer and friend of the company decided they wanted to try it. It was something that they could do to compete, not break the bank and have a lot of fun. Other shops will and probably have had the same experience in getting involved with ChumpCar. If someone really wants to pursue customers, they are going to have to do their research and get to the tracks to make their presence known."
Red Line's Evans agrees.
"Shop owners need to come out to a race and take a look around. They will see for themselves where they fit into the sales mix. Come in with the notion that buying decisions are coming from a few different influences like niche make and model (online) forums, as well as from the Chump forum."
What Racers Need
Speed shops serving the ChumpCar market will quickly learn that the racers are in need of a wide variety of items, Douglass says.
"Before I went out to a race, I wrongly assumed that most of the parts needed were OE replacement stuff. The reality is that many of these cars are outfitted with fuel cells, fire suppression systems, communications, data acquisition (and other aftermarket items). The pits are filled with racing-specific tools, safety gear and various consumables.
"Put together an incentive program for the race weekend that caters to the Chumps, and I guarantee you that (Condren) and his crew will help drive business to your shop."
Ruink says that OMP is working with several authorized dealers to start serving ChumpCar racers and Utt adds that the opportunity for increased sales is very real.
"With all these new, low-cost race cars being built and maintained, coupled with four to six drivers per car, the market for safety gear and parts is huge. We are currently working to get our dealers more involved by offering tailored race suit packages to these racers. I highly recommend becoming familiar with the rule book so you are able to make recommendations and guide new racers."
And who knows just how big this thing will get.
"There are races all over the country, plus Canada and Mexico," Kistner explains. "There's a huge demand for replacement parts such as brakes, engines, tires, oil, etc. If teams are doing a lot of racing, it's not uncommon to replace nearly every component of the car over the course of a season. So many teams are relatively new to any kind of racing scene and that can make it tough to find the best parts and service. It's a melting pot of racers and the opportunities for suppliers are endless."
The Fun Keeps Coming
One of the secrets of ChumpCar is that with so many participants at each event, a few ringershave come out to have some fun, too.
In the old days of road racing, actor Steve McQueen was banned by the movie studios from competing, so he would show up to events and sign in as "Harvey Mushman." These days, some of the Harveys signing in to ChumpCar events look an awful lot like Terry and Bobby Labonte or Tony Stewart of NASCAR fame, and other professional drivers buckling up to have some fun with the boys and girls of the Optima Batteries ChumpCar World Series.
In another throwback, one more look at that funny but highly effective website shows that: "ChumpCar is a throwback to the era when racing was fun and cheap… when Bondo beat carbon-fiber; when a crescent wrench was the most valuable tool in your box; when homemade engineering made everyone sit up and take notice; and when adding a little theme to your car didn't get you laughed off of pit lane. Those were good times… and they're back."