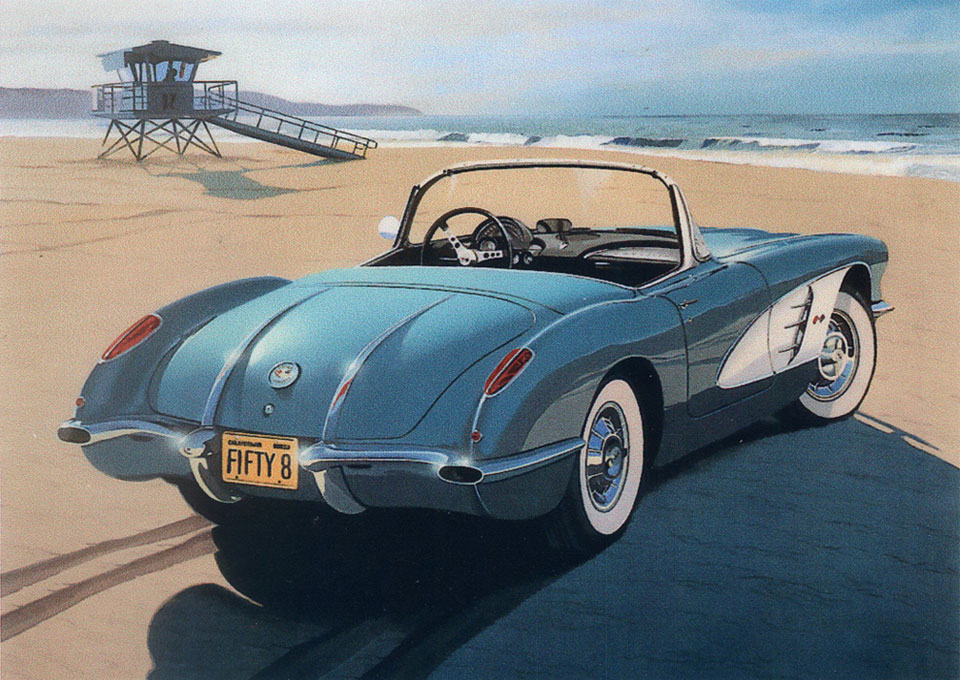 In 1983, during a trip to Southern California, I was invited to visit the home of artist Harold Cleworth. When I arrived at a small house in Venice, California, I saw late-1950s luxury cars scattered all about and realized that Cleworth was as much of a "car guy" as he was an artist. I was so impressed that we used several Cleworth artworks on the cover of CAR EXCHANGE magazine, which was published through 1984
This month, Harold Cleworth's lengthy career, which includes designing album covers for British rock groups in the 1960s, will be celebrated at LeMay –America's Car Museum (ACM) in Tacoma, Washington during Tacoma Arts Month in October. ACM will spotlight Cleworth as the "painter laureate of the car."
Cleworth's trademark "super realism" paintings grace the homes of celebrities, as well as the collections of car and art enthusiasts. His talent has garnered commissions from car companies, the Pebble Beach Concours D'Elegance and automotive legends, like John DeLorean.
The art show will highlight Cleworth's photo-realism paintings and his book An ArtFULL Life. Prints of his artworks will be available in the museum store. Only 250 signed, numbered limited-edition lithographs will be available and they will include a certificate for discounted framing. A portion of the proceeds from the sale of the prints will be donated to the ACM education department.
Cleworth is also scheduled to speak to students at the museum on Oct. 9 from 11 a.m. to noon. He will speak about his artwork and how he harnessed a passion for automobiles into a lifelong career. Students will be able to see Cleworth's artwork and ask questions about his approach and technique.
A public lecture and book and print signing by Cleworth is set for Oct. 10 from 2 p.m. to 4 p.m., where visitors will be able to hear the artist's life story. He will discuss designing album covers for the Rolling Stones, creating works of art for Delorean and others, as well as explain his "do what you love" philosophy to the group. He also will share the discovery of his so-called "lost Ferrari" lithographs-prints that he found decades after they were created. The event is free with museum admission.