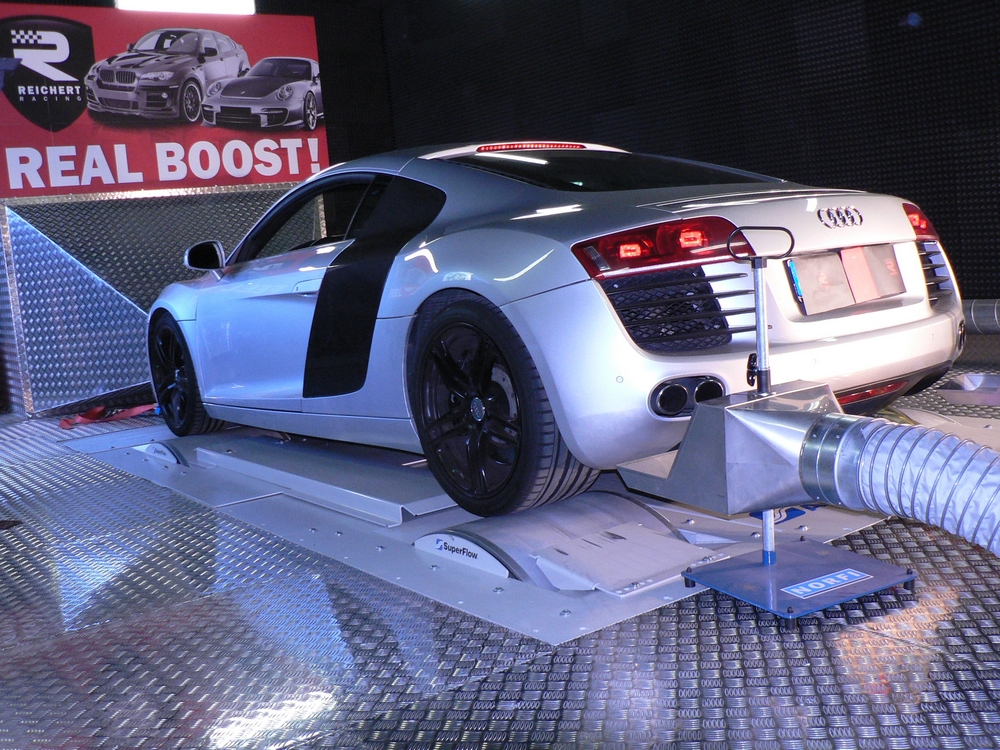 When it comes to owning a dynamometer, there are lots of questions for shops to ask. From the type of dyno best-suited for their particular needs to the best ways to pay for it, market it and use it to their advantage, dyno ownership isn't a decision to be made lightly.
Dynos require attention and expertise. In return they offer tangible and intangible benefits that help speed shops and builders differentiate themselves from their competition and help their customers wring the most out of any performance modification.
Below, six dyno manufacturers offer their take on what's hot in the market and how shops can make the most of their dyno experience.
++++++++++
Land & Sea Inc.
Concord, H.H.
Bob Bergeron
President
Our hottest new dyno product is…
…Land & Sea's DYNOmite Dynamometer engineers are continuing what has become the company' trademark "modular" approach to new dynamometers and dyno upgrades with systems that can be enhanced and customized as a shop's testing needs and sophistication expand.
The idea is that you should rarely have to replace your original investment; instead you upgrade what you already own.
With that in mind, we have expanded the DYNOmite Pro console line into a massive NASA-looking system. One configuration example supports four large monitors, multiple PCs and keyboards, digital LED readouts with PC-independent safety-relay overrides, wireless touchscreen tablet and PDA (smartphone) control interface, and even synchronized test-cell video capture (into the run's data file) to create a highly adaptive and interactive user experience.
Its best features include…
…the great thing about the modular approach is that you can roll out segments of this command center over time. All of the console frames, panels and anodized aluminum parts share common bolt patterns and machined pockets. This allows assembly of custom configurations (straight, right-angle, half-circle, etc.).
Another modular approach can be seen in Land & Sea's Axle-Hub dynamometers. They offer AC, eddy-current, hybrid (AC+EC), and even water-brake axle-mounted dynamometers for automotive, kart, motorcycle and snowmobile applications.
The latest low-inertia eddy-current units may be upgraded to AWD or augmented with DYNOmite ActiveSync modules for speed matching the unpowered axles on traction-controlled vehicles. ActiveSync-equipped units may also be optioned to allow motoring (coasting simulations).
The 100-percent AC motor (non-eddy-current absorber) versions are even offered with regenerative packages, so that all of your testing horsepower goes back into the electric grid-earning you a credit on your utility bill!
Dynos lead to increased profits for shops by…
…first, owners should not get hung up on selling dyno time by the hour or pull. Too many shops look no further than charging the $50 to $200 per test (depending on the level of diagnostics being offered).
However, selling pulls (directly) is only a single component in a successful total dynamometer revenue program. For example, with each paid test conducted, that store's personnel gain knowledge about combinations that do and do not work. This expertise helps immensely in selling other products and non-dyno services.
Owner's find employees telling customers about "…how a certain combination was run on the dyno the other day and improved its performance." This excites customers, and they buy more.
Shops with a dyno can increase all their hourly service rates. This is actually the No. 1 secret at successful dyno facilities. Dynamometer experience raises a shop's status enough to sustain a higher hourly rate on every job.
Customers, who balk at paying for traditional diagnostic time willingly spend extra when dyno testing is involved. Even non-performance work, which never gets near the dyno, bills at the higher rates.
Like hospitals with CAT scans and professionals holding Ivy League degrees, shops that own dynamometers (and the resulting knowledge) command premium fees. By prominently displaying the dyno and talking to customers about what's been learned, stores gain credibility. This builds a client waiting list (supporting the higher rates) and is the proven route to extracting profits from your dynamometer investment.
The best unexpected bonus for shops offering dyno services is…
…respect from the customer.
The best way a shop can market its dyno services is to…
…put the dyno where the customer can see it.
++++++++++
Mustang Dynamometer
Twinsburg, Ohio
Will Dages
Director of Marketing
Our hottest new dyno product is…
…we've just released a brand-new AWD dynamometer model, the MD-AWD-150, and we're bringing it with us to the Automechanika Dubai show in May.
Its best features include…
…the MD-AWD-150 series dynamometer was designed in response to increased customer demand for a lower-cost AWD dynamometer that doesn't sacrifice on performance. By strategically eliminating key cost factors, the engineers at Mustang Dynamometer were able to design this baseline system in a way that maximizes its economy, while maintaining the high level of quality expected from a Mustang dyno.
The AWD-150 still boasts some impressive features, like rollers that are mechanically linked with a 98-percent efficient aramid/Kevlar belt, an inside track width range of 18 to 80 inches and a 96- to 130-inch wheelbase. You're also able to measure 2,000 hp, go 175 mph, and you get a full version of our PowerDyne software.
The biggest misconception shops have about owning a dyno is…
…a lot of shops assume they can't afford a dyno. It's true that this is a huge purchase, and quite possibly will be the most expensive piece of equipment in the entire shop, but it's also usually the most profitable piece of equipment your shop will own.
A dyno is an important tool that can save your shop gobs of money in the long run, and attract new customers. With great financing options and a large selection of standard products, we're usually able to find the perfect fit for any shop with any budget.
Remember: a dyno is an investment, so it's important to do your research thoroughly and choose a dyno brand that is known for its quality, craftsmanship and commitment to service.
Dynos lead to increased profits for shops by…
…a dyno can be a very reliable tool that instills trust in your clients. You can hand them objective statistics on their car's performance before and after your modifications to give them concrete evidence of improvement.
The more trust your customers have in your shop, the more repeat customers and word-of-mouth referrals you can expect.
The best unexpected bonus for shops offering dyno services is…
…dyno services often result in increased part sales. It's easy to upsell performance enhancements right there in the shop when you get the customer's car on the dyno and they pull a 14-second quarter-mile. Just look over to them and ask, "Wanna make that a 13.5?"
The best way a shop can market its dyno services is to…
…embrace social media. If your shop isn't utilizing Facebook, Twitter and YouTube, you're missing out on a huge opportunity.
People love their cars, and they love to share pictures, videos and stats from their dyno runs. Encourage your customers to be present for before-and-after dyno runs so they can take pictures and videos, and post them to Facebook, Twitter and tuning forums. If they don't have a camera, take pictures and video for them and upload them to your shop's social media accounts. Call it a free add-on, and make sure you send them the link so they can share it with their friends.
The excitement is contagious, and your customers will be spreading a message of delight with their friends and followers.
The concept is simple: people who love their cars know other people who love their cars. Social networks connect those people-your potential customers. Make sure that your shop contributes something of value (a great tune, video of a dyno run, cool pictures of their car), then encourage and help your customers talk about it online.
A few things to keep in mind: make sure your shop crew is dressed professionally and the shop is neat and tidy so you're able to present yourself in the best possible light.
++++++++++
SuperFlow Dynamometer
Des Moines, Iowa
Mike Giles
Marketing Manager
Our hottest new dyno product is…
…Data Acquisition Conversion Kits for SuperFlow engine dynamometers, DTS engine dynamometers, SuperFlow chassis dynamometers and for several other manufacturers' engine, chassis and transmission dynamometers.
Its best features include…
…the ability to affordably upgrade an existing dynamometer to the latest testing technology and data acquisition system without the expense of a new dyno.
The mechanical components of any dynamometer typically outlast the data acquisition system and it makes no sense to purchase a new dynamometer if your mechanicals are still in good working order. The conversion kit provides the latest version of our WinDyn data acquisition system offering precise control, 139 user-configurable channels, standard and custom tests and a host of custom graphing and data analysis capabilities. The end result is a dyno that performs like new for a fraction of the cost of a new system.
The biggest misconception shops have about owning a dyno is…
…they will market themselves. We've seen too often where a new shop gets a chassis dyno expecting to make loads of money, which is possible if they actively market the dyno capabilities, but they don't.
The ones that succeed market their dyno constantly. They organize open houses and Dyno Days, they hire a professional tuner and they have a budget and a marketing plan dedicated to making the dyno a profit center in their business.
Dynos lead to increased profits for shops by…
…adding a revenue stream. Not only can you sell dyno time to cover the payments for the dyno, but it should also significantly increase sales of power-adders like nitrous kits, turbos, superchargers, exhaust, etc.
The best unexpected bonus for shops offering dyno services is…
…credibility if used correctly. Everyone can see right through inflated power and torque numbers. We have several customers who have built extremely successful dyno businesses doing nothing more than offering an unbiased place to test manufacturers' horsepower claims.
The best way a shop can market its dyno services is…
…to have a well-defined marketing plan and a marketing budget. Like I said above, the dyno won't market itself. Simple things like social media and banners out front at your shop are great ways to get the word out for a minimal investment.
++++++++++
Dynocom Industries Inc. 
Fort Worth, Texas
Allison Blackstein
Director Sales & Marketing
Our hottest new dyno product is…
…the AWD-5000-FX introduced at the 2011 SEMA Show. For the value it's unbeatable. For the price of many two-wheel drive units you can get an AWD mechanically linked dyno.
The front portion of the AWD unit is a 2WD 5000 Series unit and the rear is a set of linked rollers with a 36- to 80-inch track width Gates Poly Chain GT2. It is capable of supporting speeds up to 175-plus mph and 2,000-plus hp.
It was designed for a variety of different testing scenarios-FWD/RWD cars, sport compacts, motorcycles and ATVs. It is equipped with an eddy brake and you are able to perform acceleration, step, sweep and steady-state tests.
Its best features include…
…the best part is it's made in the U.S.
Other features include the ability to view in real-time torque/horsepower output, at steady and changing speeds, to instantly evaluate changes you've made to the engine's fuel or timing maps. Also diagnose engine and drivetrain problems, troubleshoot drivability issues and run track quarter-mile or circle track lap simulations with reaction times that you determine in the software parameters.
The AWD-5000-FX Series dyno incorporates linkage that ensures that the front and rear rollers are always spinning at precisely the same road speed. This process eliminates the possibility of activating a vehicle's traction control system and also ensures that a vehicle's torque management system is operating under the assumption that the vehicle is not skidding, turning or slipping.
The biggest misconception shops have about owning a dyno is…
…that you will know how to operate it right away. All machines require training. A tool is only as good as the person using it. I can have the best equipment in the world, but if I don't know how to operate it correctly then I cannot expect great results.
Also that dynos "lie." Many times I step on the scale and blame the scale for being wrong (OK, I am a woman!). Of course I do know that it is only telling me my weight-"it doesn't care about my feelings.
Same with a dyno-it's going to give you a number and sometimes you won't be happy with what it tells you.
Dynos lead to increased profits for shops by…
…offering additional billable services and increasing sales of aftermarket parts.
The best way a shop can market its dyno services is to…
…market the shop by opening it up to the public with Dyno Days. The more traffic you can bring into your shop, the better.
Also offer regular maintenance services-if a customer hears a "knock" at 60 mph, put it on the dyno and set your steady state to 60 mph-it eliminates the need to take a car on a test drive.
++++++++++
Stuska Dynamometers
Sussex, Wis.
Steve Huelsbeck
Sales and Service Manager
Our hottest new dyno product is…
…knowledge. It can be applied anywhere in our process, from the drafting of a new component to helping a customer install and use a Stuska Track Master. Our goal extends to our customers' end-game of delivering high-performance and high-quality engines.
With knowledge, not only are we able to improve new products, but also improve the performance of some of the very first Track Masters ever installed. Gaining and applying knowledge, that's what a dynamometer is really all about. We sell you tools to refine your products and we aim to keep refining ours.
Its best features include…
…our customers! I really want to thank our customers. Your valuable feedback is paramount to achieving our mutual goals.
The biggest misconception shops have about owning a dyno is…
…perhaps most of the misconceptions come from their customers. You can show them on paper how their engine performs, or wait until they strap in and put their foot down. Either way, your odds of satisfied customers go up with a dyno.
Dynos lead to increased profits for shops by…
…the most obvious way is straight-up dyno time. Some shops test a lot of engines for others and some shops reserve testing for their own engines. Anyone building will gain sales and protect profits by breaking-in and testing their engines on a dyno.
Dyno time adds some expense (in-house or rented) but it is an accountable amount. Not testing can create losses; some are accountable and some are not. Ask yourself which costs more-a problem in a test or problem in a race?
The best unexpected bonus for shops offering dyno services is…
…the first time it is evident that the dyno just showed you something. It could be something you always thought but now you have proof. It could be something you wondered about. It could be something that never crossed your mind. It really psyches you up.
The best way a shop can market its dyno services is to…
…if you're selling time, you should be able to focus on your market. Go to local tracks, place ads in race programs and rulebooks, car club newsletters, etc. Always have business cards at hand.
If you're building, make the dynamometer test an integral part of your process. In either case, develop scientific testing methods, controlling as much as you can and test the variables.
A good testing process leads to good conclusions. Keep records, gain knowledge and enhance quality. So, if you are selling time or testing your own engines, you are selling quality. Serious customers flock to quality.
++++++++++
Dynojet Research Inc. 
North Las Vegas, Nevada
Will Fong
Sales & Marketing Manager
Our hottest new dyno product is…
…our Model 424xLC2 with Linx.
Its best features include…
…it can test 2WD and AWD vehicles up to 2,000 hp, 2,000 foot-pounds of torque and 200 mph and comes equipped with two eddy-current load cells for various load testing capabilities such as wind drag simulation, step tests and user-defined custom load tests.
The Linx system mechanically connects both axles for the finest AWD testing and is easily disconnected for 2WD vehicles. Every Dynojet 224x model can be upgraded to this configuration.
The biggest misconception shops have about owning a dyno is…
…that it is out of reach in today's credit market. We work with several leasing companies and banks that provide exceptional lease-purchase rates and we have seen a big increase in approvals compared to the last year or two.
Dynos lead to increased profits for shops by…
…providing validation for performance tuning and parts installation. Having an in-house dyno is crucial in this day and age. Customers want to see results for the money they spend. It has become a must for a serious performance tuning shop to have a chassis dyno.
The best unexpected bonus for shops offering dyno services is…
…the increase in knowledge base from dyno tuning experience. An experienced dyno operator can take one look at a car's combo and know exactly which modifications and calibration adjustments from A-to-Z it needs in order to perform better.
This kind of experience is gained from seeing actual test data on the dyno and not simply adding up advertised gains from parts sellers.
The best way a shop can market its dyno services is to…
…be active in their local community and nationally via the Internet. Participate on enthusiast Web forums, get involved in social media and in local enthusiast groups and events.