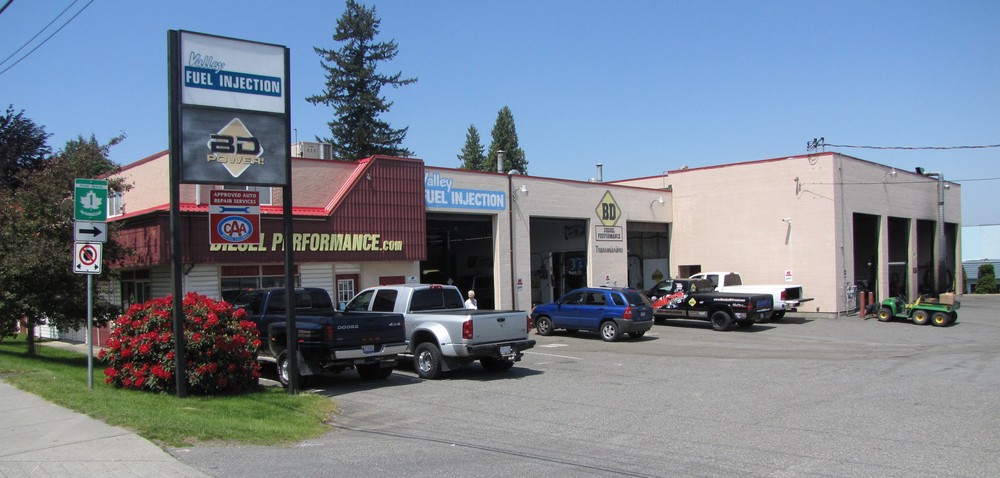 Cheyne (pronounced "Shane") Beukes, service manager at Valley Fuel Injection in Abbotsford, B.C., has done diesel repair and performance since the early 1990s. That's 20 years of expertise he brings to his diesel-driven clientele.
Double that amount of time, however, and that's how long Valley Fuel Injection has been servicing its customers' diesel repair needs.
"There's a bit of a story behind Valley Fuel," says Beukes. "The original business launched 39 years ago. It began as a fuel shop and grew from there into doing vehicle and transmission repairs and today we specialize in diesel pickups."
Brian Roth, the owner, also formed aftermarket industry supplier BD Diesel Performance, he notes.
Valley Fuel Injection and BD Diesel Performance together create a well-oiled (pun intended) one-two punch for Western Canada's diesel community: with BD Diesel Performance creating products, the Valley Fuel Injection addition ramps up the whole operation.
And with R&D as part of the equation, it's a bit of a perfect storm for the Valley Fuel Injection customer.
"It works well because we are the repair shop for BD Diesel Performance," says Beukes. "We're a jobber and BD Diesel is a manufacturer of various parts, including exhaust brakes, performance transmissions and the like, and we install all those parts and do all the service."
Old-Fashioned Approach
Valley Fuel Injection finds customers via the good, old-fashioned way business often comes to those who've been around for four decades.
"Being in the industry for so long, we're very well known," says Beukes. "Because we cover such a wide variety of systems and are also a repair shop specific to diesel pickups, a lot of business comes to us by word-of-mouth. We do get a lot of repeat business that way.
"But we also do shows and do advertising," he adds. "We attend and participate in sportsman shows and at outdoor shows. Twice a year we host 'Dyno Day,' where we have an open house with all of our people, including BD Diesel. We run 60 trucks on the dyno-the first 60 trucks that show up get a free run on the dyno."
It's an approach he believes helps Valley connect with its customers.
"From that (Dyno Day) comes a lot of business," he says. "It's one day on a Saturday and (then) local drag racing on Sunday, with BD Diesel sponsoring. Everyone has a great time."
All of that action happens in a facility that Valley Fuel Injection has occupied for the last 40 years.
"We've got seven bays here," says Beukes. "We can accommodate up to 16 vehicles, and we've got seven mechanics and seven lifts. Four of those bays are two vehicles deep and we can get two full-sized pickups into each of them."
The entire facility, including BD Diesel Performance, employs 85 people.
Not surprisingly, the Valley Fuel Injection operation has a reputation that is far-reaching, extensive and very expert-driven.
"We're particularly known for providing innovative solutions to problems that are bolted into the truck from the factory," says Beukes. "For example, the Dodge has weak transmissions and we put in a BD Diesel Performance transmission. And we see steering problems and we've got the exact steering solution needed. The thing is, we've truly got the fixes for all of the diesel pickups that come in here."
Another element of the Valley Fuel Injection winning equation is the company's dedication to its customers.
"We dedicate ourselves to customer service," says Beukes. "We have a comfortable waiting room, and every one of our mechanics is well-trained and extremely skilled. It all adds up to keeping us as the leader in the pickup truck diesel business."
Staying Strong
However, not unlike a lot of businesses over the past few years, Valley Fuel Injection felt a bit of the sting of the recent downturn in the economy-"but it was a minor sting.
"About three years ago, we had a little slow period when the economy began slowing," says Beukes. "Everyone worldwide was feeling it, of course. But the good news it that it really only lasted about two or three months. It was nowhere near what we thought it might be.
"We bounced back immediately," he continues, "and it's been very strong-fantastic, in fact. Today people are repairing vehicles versus buying new ones and that trend has helped keep us very strong."
A strong customer base comes in a wide variety of demographics.
"We do a lot of work for older folks who like to tow trailers-retired people," says Beukes. "Then there are the younger guys that have big show trucks and want extreme horsepower. We also do a lot of work for businesses that need vehicles maintained and put back on the road and cared for. We do what we do for anyone who owns a diesel."
And what's helped, in an ironic way, says Beukes, is having diesel pickup truck manufacturers fall short.
"(OE) manufacturers have actually helped our business because some of the faults in the trucks when they're loaded and come out of the factory can be improved upon," says Beukes. "We make improvements on what we see as weak manufacturing or as a result of the feedback from the owner. We try to improve upon everything they do and we are able to learn to improve our service because customers' feedback helps us."
It's also helpful to have a solid grasp of the possibilities and capabilities diesel pickups present
"The amount of gain or improvements that you can do to a stock truck is amazing," says Beukes. "It's quite surprising how much better a vehicle can be. There's a lot of aftermarket possibility. It's a shock to take a Dodge diesel straight off the lot and spend $30,000 in upgrades and improvements and see how much better it is. It's surprising what can be done."
Added Benefits
Given his 20 years in the business, Beukes has watched as diesels, and the products that make them better, have evolved. All along, Valley Fuel Injection (www.dieselperformance.com) has kept up by offering the latest products and services.
A current trend is the balance of power and efficiency that aftermarket items can provide.
"A lot of people are now conscious of fuel economy," he says. "We get a lot of requests for our upgrades for performance and in almost all cases they want better fuel economy and an improved carbon footprint. People are now conscious of the environment and we've changed a lot of what we do because of that.
"Also, the diesel pickup serves a purpose and we cater to that," he adds. "Everyone wants more power and solutions for whatever they have. As the vehicles become newer, we've conducted more research and development just to stay current."
And it's a good thing, because there are a few other diesel pickup service and repair shops in the Valley Fuel Injection neighborhood, which Beukes says helps keep the company on its toes and ahead of the game.
"We have several other diesel shops within a 100-mile radius that we have to compete against," he says. "So we make sure that everything we do is done correctly. Our guys are very well-trained and we make sure the customer always gets the best service and best prices possible. Whatever we do we do to the best of our ability and then some."
All this success means that Valley Fuel Injection might be bursting at the seams at some point.
"BD Diesel has grown to the point that they are too big for their area," says Beukes, "so it's moving to a new facility. Our repair shop right now is at capacity. If we did need to grow we'd have to move-"and that's good."
But never away from its diesel-driven roots.