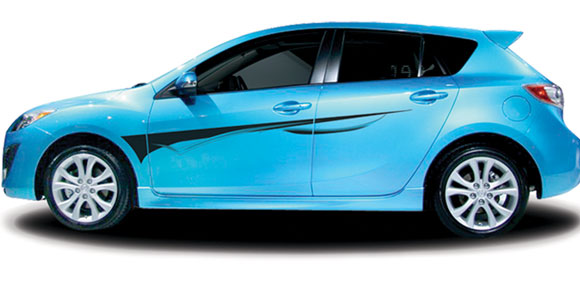 A lot of the new class of 2011 cars is not only smaller, but the vehicles look different than the big muscle cars of yore.
Whether big or small, hybrid or muscle, new-car owners represent a big market, demanding graphics with style and a flair that complements their individual taste.
Restyling asked a few manufacturers of vinyl graphics kits what they see in the year ahead as car owners look to restylers for the newest trends and the hottest designs of the times.
Restyling (RE): What will be the graphic looks we'll see this spring and summer? Will these be much different from last year?
This year you are going to see much more focus on vehicle-specific designs. Things that allow a person to customize the look of their vehicle that fits their image. There will be tons of small utility-type cars sold – like Cruze, Fiesta, Focus, Kia, Hyundai. People want the economy and efficiency of these vehicles, but they want them to represent their attitude and perspective. This will be a fundamental shift in the graphics world. "Cookie-cutter" designs will tail off and these personalized designs will begin to take off.
– Doug Jacobs, -¨Restylers' Choice, -¨Cincinnati-¨
We feel that graphic kits are going to become a lot more vehicle-specific – graphics that have more of an OEM feel and that fit on the body style lines of a specific car. The auto manufacturers may offer a signature color, but it's up to us to offer a graphics and molding package for that particular car. In the last few years we have been seeing a resurgence of rally stripes on the Camaro, Mustang and Challenger.
That market has been very strong for us in 2010 and should continue to be a good seller in 2011.
– Dale Huenink, – Vinyl Graphics, – Oostburg, Wis.
Current graphic design trends are expected to carry over through 2011. Retro-style "muscle car" striping and graphic designs should continue to be popular.
– Greg Duchinsky, – Sharpline Converting Inc., – Wichita, Kan.
There will be more graphics that will be vehicle specific and they will more closely follow the body lines of the vehicles they were designed for.
– Gary Davison, – Universal Products, – Goddard, Kan.
I think that you will see more duotone (matte, rather than glossy), and the ever-increasing digitally printed wraps. These tone-on-tone applications seem to have a more subtle appearance, but still create a substantial impact. I don't see a drastic swing in terms of graphic trends from last year, other than the complete color changes (vinyl paint jobs), which seem to be gaining a substantial amount of visibility in the media.
– Matt Srugis, – Grip Tuning, – Warren, Mich.
RE: What class of vehicles – trucks, cars, or SUVs/CUVs – will people most likely be looking to add graphics to?-¨
Econo-boxes and smaller CUVs will be the hot trend over the next couple of years.
– Doug Jacobs, – Restylers' Choice
I don't have a crystal ball, but if gas pricing continues to go up, I believe cars like the Ford Fiesta, Honda Fit and the Scion XD may be this year's hot sellers. These vehicles have very cool styling and are at the lower end of the price range. Yet I don't feel that these types of buyers are the type of people that want to be seen in an "econo-box." We feel that when the car dealer sees a strong demand for these cars, they would be happy to increase their net profit by front-loading them with the use of graphics. The car dealers will also want to set their inventory apart from their competition; and graphics, side moldings and wings are a great way to do that.
– Dale Huenink, – Vinyl Graphics
OEM sales figures indicate a rise in light-duty trucks sales, which are the most popular vehicle class for graphic add-ons. Another likely candidate for graphics would be the recent introduction of new coupes, hatchbacks and sedans. Customers will be looking for ways to "personalize" these smaller vehicles.
– Greg Duchinsky, – Sharpline Converting Inc.
All classes of vehicles are great candidates for graphics, but there are particular makes/models within each class that particularly lend themselves toward graphic customization.
– Gary Davison, – Universal Products
I still think that trucks and cars will be most prevalent when it comes to graphic installations. Currently a majority of SUVs/CUVs are purchased as a primary vehicle for transportation, whereas most enthusiasts are still attracted to cars and trucks for customization.
– Matt Srugis, – Grip Tuning
RE: Geographically, what parts of North America look to be the best areas for graphics applications? (For example, since the 2010 census points to a population shift from the Northeast and "rust-belt" states to the South and the West, would there naturally be more activity expected in those regions?)
The graphics business has been on a severe downturn over the last few years. The Midwest has been hit hard, and the Southeast really hard. I think we will see some growth in the Southern states like Texas. However, California has never been a strong graphics market, and probably will remain out of the game. The demographics out West have always seemed to be more focused on more expensive customizations like wheels and suspensions.
– Doug Jacobs, – Restylers' Choice
It's true that here in the Midwest we have seen a slow-down, but installers that have kept a good attitude and diversified their product line and continue to move products. Installers that found new customer types – like body shops, used car lots and fleet accounts – have not only expanded their customer base but set themselves up for real expansion when this recession is over. More than ever installers need to work with the dealers to show them the new products that are available. It's our job to help the installer keep up on new products and marketing ideas that have worked in other parts of the country.
Point-of-purchase displays can help the car dealer sell more aftermarket products. As a warehouse distributor we find it more important than ever to work with our customers because their success directly affects our success.
– Dale Huenink, – Vinyl Graphics
The Midwestern U.S. continues to be the most popular region for graphics applications, followed by the South. We don't expect any reported population shift to have a dramatic effect on graphic sales for any region.
– Greg Duchinsky, – Sharpline Converting Inc.
We sell graphics from coast to coast and overseas. Geographically speaking, all areas remain consistent, with no one particular area being stronger than another.
– Gary Davison, Universal Products
RE: With the matte look beginning to show up more in both paint and wrap treatments, will graphics follow suit?-¨
It is already starting to happen. New designs are just now hitting the market in matte black, and I expect to see many more designs in the near future highlighting this color trend.
– Doug Jacobs, – Restylers' Choice
Matte black has made a comeback when it comes to rally stripes and rear blackout panels. We have seen matte black used on black vehicles to give the striping or graphics a kind of "ghost" look. We are also seeing interest in uses of camouflage patterns on the lower rocker panels of pickup trucks. Carbon fiber used on roofs, hoods and rear body panels are hot right now. Carbon fiber has come back with a vengeance since 3M introduced an architectural grade film that has a four-year outdoor durability.
– Dale Huenink, – Vinyl Graphics
Demand for matte-finish graphics is increasing as the popularity of matte paint becomes more mainstream. If manufactured properly, matte finish graphics will be more durable and easier to maintain than matte paint finishes. Sharpline is already marketing products that provide matte paint effects on any vehicle.
– Greg Duchinsky, – Sharpline Converting Inc.
Yes, you will see matte black color combos being offered in a number of graphic kit selections.
– Gary Davison, – Universal Products
Absolutely. We did this on a SEMA vehicle in 2008, and it was a huge hit. It was a black vehicle with flat black graphics, and garnered much attention (even won an award from your publication that year).
– Matt Srugis, – Grip Tuning
RE: What are some tips for installers to help guide their customers to matching the best design and best color scheme appropriate for their particular vehicle?-¨
Use our Web tool, VIGOR. Take any car, any color, and find the perfect graphic for it.
– Doug Jacobs, – Restylers' Choice
One of the simplest ways to make sure your graphic color selection works is to match the color of the vehicle's interior. We sell more silver then any other color. That may be because a large number of our customers are mobile installers and silver works on most car colors.
An installer would also want to keep an eye on color trends other industries are using, like motorcycles or jet skis. Many times the hot rod guys set color trends years before you see it come from the auto manufacturers. You also need to adjust your color selection to the market that the vehicle is designed to sell to. On a family sedan pinstripe you would use a more conservative color than on a red muscle car.
– Dale Huenink, – Vinyl Graphics
Consumer tastes in graphics have become more conservative, so the most popular design choices will complement the shape of the vehicle's exterior. Neutral or complementary color tones will also be the popular choice for most people looking to add graphics to their vehicle.
– Greg Duchinsky,-  Sharpline Converting Inc.
The design should flow with and complement the body contours of the vehicle. The color selection should also complement any other colors on the vehicle … interior, etc.
– Gary Davison, – Universal Products
Try to pick a color that complements the lines of the vehicle. There is nothing worse than graphics that compete/clash with the aesthetic design of the vehicle's surfaces. Typically, linear designs look best on many vehicles.
– Matt Srugis, – Grip Tuning
RE: What are some good application tips you can offer in applying graphics?
This time of year heat is your friend. In colder weather try to install the graphics dry.
Universal sells a winter adhesive for pinstripes; this can be a lifesaver for the guys in the Midwest. A number of our customers switch to cold-weather pinstripe tape in November. It gives you a much wider temperature range to work in.
When installing fleet graphics give your graphics supplier all the information you can about the project, such as: Are you installing over rivets or corrugations? Are the graphics for a promotion or for long-term use?
Today there are a large number of materials to choose from. Special air- release adhesive films, for example, can significantly reduce application time.
If I can give somebody one tip, it would be to take classes on wraps and fleet graphics. One tip can save you hundreds of labor hours over the next few years and you will have the feeling it was done well the first time.
– Dale Huenink, – Vinyl Graphics
Most of our graphic kits come with instructions for proper application. Additional application tips are available on Sharpline's website at http://www.sharpline.com/install.html.
– Greg Duchinsky, – Sharpline Converting Inc.
It is best to use manufacturer-recommended cleaners and application fluids.
– Gary Davison, – Universal Products
Apply dry. That is my best advice. I have never had any luck using a wet installation. Additionally, don't be afraid of using heat (either a heat gun or torch); it can resolve many installation issues which may intimidate an inexperienced installer.
– Matt Srugis, – Grip Tuning