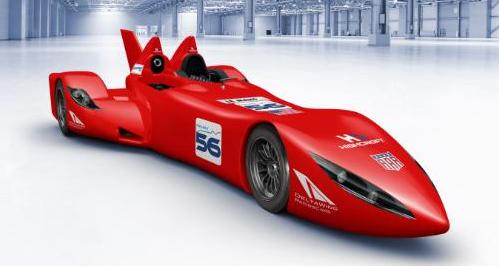 Some of the biggest names in American motorsports joined forces for the 2012 24 Hours of Le Mans to showcase a unique concept demonstrating extreme performance with half the weight and horsepower of a traditional racing car.
The Project 56 group brings together the design talents of DeltaWing Racing Cars LLC; the manufacturing capabilities of All American Racers, the company owned by 1967 Le Mans winner and American racing legend Dan Gurney; and back-to-back American Le Mans Series championship winning racing team, Highcroft Racing.
American Le Mans Series founder Dr. Don Panoz has also joined the project as a key advisor, according to a press release.
The group was awarded an invitation by the Le Mans 24 Hour race organizers, the Automobile Club de l'Ouest to contest the 2012 race as an additional 56th entry.
The 56th place on the grid is reserved for a technologically innovative car to participate "outside the classifications"-a vehicle showcasing new applications and unique technologies previously unseen in the world's greatest endurance race, the release stated.
While racing cars have traditionally strived for increased performance through gains in horsepower and aerodynamic downforce, the DeltaWing concept concentrates on exploiting efficiency gains found outside contemporary regulations to reduce fuel consumption without reducing performance.
The new experimental car is targeting competitive performance with only half the horsepower of the leading contenders. It does it through halving the amount of aerodynamic drag of traditional racing cars as well as a similar reduction in weight.
The Project 56 Group is in discussion with engine partners to provide a 1.6-liter turbocharged power plant for the project-producing approximately 300 hp.
Eliminating the use of traditional wings, downforce for the DeltaWing is generated solely beneath the car by the contoured underbody.
"The secret to the DeltaWing car is simplicity and efficiency," said Ben Bowlby, designer. "We really have to applaud the ACO for having the foresight to create this opportunity for an entry like ours. We believe this is a true automotive innovation which could be the catalyst for changing the way people look at not only racing car design, but automotive design as a whole."
The 24 Hours of Le Mans is the world's oldest and most famous endurance race. First held in 1923, the event has attracted the world's finest automotive manufacturers and drivers.
"The DeltaWing project really represents a unique opportunity for all automotive industry sectors," Highcroft Racing's Duncan Dayton said. "It is so new and exciting, and such an interesting departure from the traditional race car development path-it is highly relevant to the future. Given that the world is concentrating on efficiency and green technologies in an attempt to achieve sustainability, this project in my opinion will help promote the direction that is being adopted throughout the entire automotive industry."