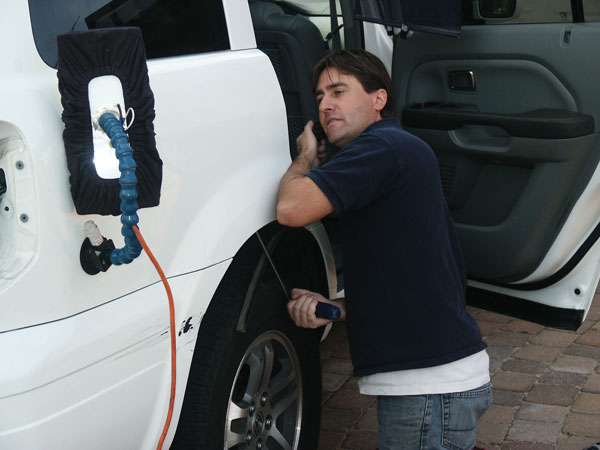 These days, most businesses are looking for new and unique angles with which to provide products and services in order to capture more customers and replace those that have dropped off due to the economy. An additional way to increase revenue is to find ways to earn more money from the jobs that you already have, the idea being to increase per-vehicle revenue.
You already have the ability to provide product advice and installation expertise that most consumers do not have. However, there is an entire segment of the automotive appearance care industry to which restylers are related but are not necessarily participants. That is the automotive reconditioning industry, which affords two categories of opportunities: automotive detailing and appearance repair.
You already know how to personalize and customize the appearance of the vehicle. Now let's explore the correction and maintenance of the vehicle appearance.
Wait; what were we talking about?
Automotive detailing has been formally defined as "the systematic rejuvenation and protection of the various surfaces of the vehicle," according to the detailing video training series Detailing for Profit. Detailing, as such, includes cleanup of and protection application to cars that have been well used for a few years, applying premium protection chemicals to new cars, as well as a myriad of specialized services that involve the use of specialized cleaning chemicals, equipment and techniques.
Among the popular appearance repair opportunities are paintless dent removal (PDR), paint spot-blending and touch-up, windshield repair and interior surface repair. The main benefit (and selling point) to the consumer is that these services typically can be performed in much less time and at much less cost than traditional auto repair methods. The proficient technician often can yield repairs that are 95% better, but never promises factory perfection. If sold properly, the vast majority of customers are delighted with the final result and happy to accept a "great, but not perfect" outcome in exchange for the time and dollar savings.
Paintless dent removal involves the use of highly specialized tools and techniques to "massage" small dings and dents until the affected metal panel is close to its original shape. It requires formal training and a multi-month commitment to practice. Mastery, although highly subjective, comes after months or years of applying the skill. A good tool set will cost several thousand dollars, but there is very little re-supply cost after that.
Paint spot-blending (or panel repair) involves using body-shop techniques, but limiting the repair to a much smaller area than would be typically performed at a body shop. The most common example is the repair of bumper corner scrapes. A sharp technician can master basic paint-blending after only a couple-dozen jobs. Formal training is highly recommended and there will be equipment costs of a few thousand dollars.
Small chips in windshields can be repaired to prevent spreading while helping to make the damage less noticeable. Most of us are familiar with star cracks and bull's-eyes. Long cracks can sometimes be repaired, as well. Windshield repair is probably the easiest to learn and least expensive of the repair services herein discussed.
"I kick myself for not adding this sooner," admits Jim Gougen of Jim's Auto Installations and Detailing Center. A good kit can be purchased for $1,000-$2,000. It can be learned by video, but formal training of only a few hours will greatly reduce the learning curve.
Interior surface repair involves fixing scuffs, cuts and tears in leather, vinyl and plastic interior panels. The interior repair technician also can re-dye or custom-color interior surfaces. There are several repair techniques that can be performed for each material, and formal training is strongly recommended. There is a balance of art and science in interior surface repair and practice is needed to master it. The cost of the repair kit depends on what's included, maxing out at a couple thousand dollars.
More about detailing
Rejuvenatory automotive detailing (that is, cleaning up used cars) is admittedly quite labor intensive, especially compared to some restyling services. Moreover, there is usually "competition" that is willing to perform this service at a price that is well below what we might accept as "fair." This type of work is probably not going to be the first choice for expansion in an operation that is relatively busy already.
Nonetheless, most vehicles that are coming in for restyling services are probably going to be in pretty good, if not, excellent condition. So it is not a stretch to imagine a situation in which the customer brings in his 1-year-old luxury sedan for a dash kit installation and is cross-sold on mat cleaning or leather seat conditioning, neither of which will take more than 15 minutes if the vehicle is in good condition and the cleaning equipment is already warmed up.
With new vehicles, the cross-sell to detailing is even simpler. As the vehicle is brought in for whatever enhancements, it is a simple matter to suggest to the customer that you can apply premium protection products to the interior and exterior of the vehicle. Gougen concurs, saying, "Our customers love our new car prep package, and it's an easy sell to those coming in for accessories."
The exterior premium protection would include polymer paint sealant for the paint, water sheeting agent for the windows and long-term, ultra-violet- inhibiting dressing for large, uncoated vinyl panels. For a sedan that has already been washed, this procedure will take about one-and-a-half labor hours, including clay treatment.
The interior premium protection would include liquid repellant for the carpets, mats and fabric; long-term, ultra-violet-inhibiting dressing for the vinyl panels; and premium conditioner for the leather. Assuming the areas need no cleaning or a light touch-up, you can complete the interior protection on a sedan in about one-and-a-half labor hours.
The really cool thing about premium protection application is that it is a high-value service, both because of the specialty supplies and techniques needed to perform the service, and because of the high-quality and durability of the chemicals typically used. As such, the service can easily command prices that yield a per-labor-hour earning rate of up to $100.
Detailing equipment, chemicals and techniques, once mastered, can be applied to a number of problem situations. For example, if your accessories installation technician accidently scratches the exterior paint or stains the carpeting, you already have the detail knowledge and supplies in place – it's probably not a big deal to correct these errors, and the customer never needs to know.
Take advantage of trends
Among the motoring public, there are two prominent consumer trends. The first is that people are keeping their cars longer. The second is that new-car buyers are choosing used vehicles versus factory new.
Some of those who are keeping their cars longer are willing to put some money into the appearance. A well-trained detailing technician can make most cars look near-new. My experience is that customers with cars that are several years old can be blown away by the impact of a high-quality full-service detail job. Then you throw on top of that all of the repair services that I have mentioned, and you have a customer who just got a "new" car for the cost of only a few new-car payments.
Moreover, with professional detailing skills at hand, you can market yourself as the person who keeps the car looking great for years to come through regular detailing.
Auto dealers have been well aware of the shift in buying to used cars, and many dealers have placed much greater emphasis on their used-car inventory. As such, they have an increasing need for reconditioning and repair services for these vehicles because the cleaner, newer-looking used car sells faster and for more money. As a multi-service operation, you can offer a one-stop center for your dealership accounts.
On the retail side, customers who buy used cars sometimes have extra money "left over" from not buying a new car, and feel comfortable spending some of that money on cleaning up and customizing the pre-owned vehicle to "make it their own." Again, if you have the ability, you can provide both cosmetic repair work (bumper scrapes, windshield chips, driver's seat re-dye, ding removal) to help make the car look newer, as well as accessories and enhancements to customize its appearance.
One final note on trends: Obviously, one of the restyling industry's sources of competition is from Internet sales of do-it-yourself aftermarket kits. One way to protect yourself from losses in this area is to offer services that cannot be bought on the Internet.
Marketing additional services
Inspect every vehicle. First of all, every vehicle that comes in for any type of service is inspected for needs that can be fulfilled with any of the other services that you provide. Then you approach the customer with a list of items that can be completed at the same time as the initial service request.
I recommend showing the customer the full-retail value of the services as if they were performed separately. Occasionally, you will have a Daddy Warbucks who says "great, take care of it all." But for the majority of the customers, there will be some balking at the bottom line. A nice aspect of the ability to provide multiple services is that you can offer good multi-service discounts and still make more revenue per vehicle than if you did not have the other services.
So, for example, a $500 accessories package becomes a $1,000 ticket with the addition of a door ding removal, a bumper scrape or two, a windshield chip, etc. As mentioned earlier, the main benefit to you as an operator of multiple services is increasing per-vehicle revenue.
Tell your existing customers. If you have been in business for any length of time, you already have a list of previous paying customers. As you add new services, send them a postcard or e-mail blast telling them about your new services. Work with your wholesale account contacts to help them understand your new service capabilities and the fact that you can offer them one-stop service at a lower total rate than they would probably pay with multiple vendors.
Tell the world. Most newspapers and Internet news outfits love to get business announcements and will publish these for free. Send press releases to all of your local news outlets each time you offer a new service. Additionally, get the service on your website. The best way to sell reconditioning services is show before-after pictures, so start taking pictures of every job you do. If you don't have any good shots to start with, buy some from someone who does. And, of course, use all of the other advertising avenues that have worked well for you in the past.
A final word
I understand that you might not yet be ready to invest in the training and equipment necessary to perform these additional services. You still can offer one or all of the services described herein by finding local mobile service providers who do great work and are willing to help you out on a subcontract basis at a wholesale rate. The idea here is to keep your customers coming back to you for as many of their appearance services as possible so that you keep your company name in front of them. Become the one-stop appearance shop for accessories, enhancements, and reconditioning.