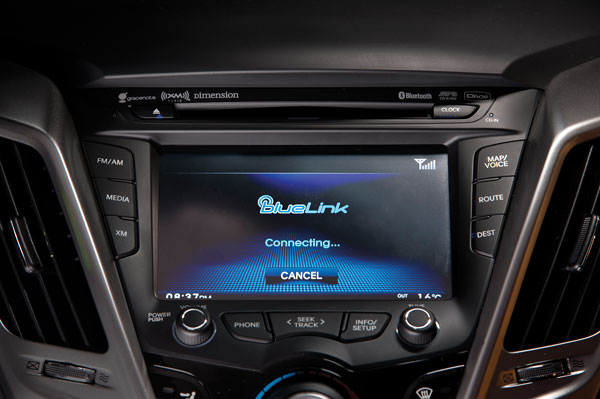 "It's interesting the term, Infotainment, because Rosen first used and trademarked that back in 1999. We have since abandoned that trademark, but we were first to use that for in-vehicle mobile entertainment and information delivery systems." – Steve Weimar, Rosen Entertainment
Rosen Entertainment might wish it had kept the trademark. In-vehicle entertainment (IVE), also variously called ICE (in-car entertainment), is now becoming more widely known as in-vehicle infotainment (IVI). The reason, of course, is that while the first screens to appear in vehicles were for mobile video systems, they now have become a mainstay feature in dashboards. No longer the domain of DVDs, screens have become touch screens full of functions such as navigation, climate controls, Internet access and, yes, even the radio.
Of even greater significance to the restyling industry is the fact that the OEs are starting to stake their claim on this turf. Ford's SYNC system, GM's OnStar, and now Hyundai's Blue-Link have just been joined by Chevrolet's MyLink. Traditional aftermarket electronics that were controlled by key fobs are now being given the capability of being controlled via cell phone. The OEs are integrating these features into their vehicles and, so, the question becomes "Are they a threat to the restyling industry?" The answer is yes…and no.
The computer is the system
Recently, Strategy Analytics had this to say: Multiple forecast scenarios and OEM strategies for software and OS (operating system) implementation are expected as the industry moves to software-defined, rather than hardware-defined, infotainment systems. This report explores the transformation of the automotive infotainment experience from vendors, such as QNX, Microsoft, GENIVI, MeeGo and Android. Strategy Analytics predicts an enhanced role for infotainment software and operating systems as they become more important to infotainment system functionality and ease of use.
"The number of multimedia and communications solutions in the automotive market is increasing," says Mark Fitzgerald, associate director of the Strategy Analytics North American Automotive Services. "Automotive software and operating system (OS) selection and functionality are both critical for a flexible, future-proof and user-friendly infotainment system."
We're going to give you an overview of Hyundai's Blue Link system that will help you understand what the next generation of integrated electronics is going to involve. Then we're going to discuss how you can position your business to take advantage of this thirst for in-cabin technology. In the December 2011 issue of Restyling, we began this discussion of IVI and distracted driving in the article, "Why WiFi?" GM's OnStar chief, Chris Preuss, participated with discussion about that automaker's in-vehicle telematics system. In all fairness, we also contacted Ford repeatedly for their input on this topic but its in-vehicle telematics representative failed to respond.
A Blue Link
Hyundai's Blue Link system will be rolled out this summer on the 2012 Sonata and Veloster. It is an "embedded" system with three levels of features. "Embedded" means that you will be able to use most of the features without the need to have your cell phone in the car. However, some functions are enhanced with your cell phone through the mobile application. Customers can upgrade to a higher level of service depending on their personal needs.
Barry Ratzlaff from Hyundai USA tells us: "Hyundai hasn't been viewed as a technology company. We view this as an opportunity to enhance the brand's image. While our vehicles are very well equipped, we see consumer demand starting to build."
The three levels are: Assurance, Essentials and Guidance. Full details of each level are on Hyundai's website; click on the Blue Link section. The Assurance level is bare-bones – mainly offering some OnStar-like features such as collision notification and SOS. The Essentials level is robust, offering an array of features including remote start, voice texting (outbound only), agent-assisted voice recognition and onboard diagnostics that enable the driver to connect to an operator and schedule a service appointment if the check engine light comes on. It also includes access to a website to set up alerts such as speed limit or geographical boundary alerts. A responsible party is sent a text message when they are violated – surely bad news for teenaged drivers. A special, helpful feature is a security one that includes vehicle slowdown and immobilization done in conjunction with law enforcement agencies.
Hyundai's agent-assisted voice recognition system is a hybrid arrangement that Hyundai feels offers the safest application of this type of technology.
"Driver distraction is caused by conversation with live operators as well as complicated graphics displays," Ratzlaff says. "Hyundai's system uses voice recognition software, which will only revert to a live person if the software cannot recognize the command or question. The operator does not talk to the driver, but is on a two-second delay. They can type into a search engine, get the answer and type it back to the driver."
Ratzlaff further commented that simplicity is the key to avoiding problems with distracted driving.
Another important feature of the Blue Link system is its ability to monitor service schedules and vehicle mechanical problems. Hyundai feels this is a critical part of the system that will help retain customer loyalty. As Ratzlaff notes, "It provides a strong CRM [customer relationship management] platform for Hyundai."
What it means to restylers
It's important to understand that these systems will not be in all vehicles. Naturally, this will provide opportunity for the industry to supply these systems or elements of them to consumers who want what is not offered on their chosen vehicle.
An "unintended consequence" to all of these systems is the ability of the average driver to absorb all the functions and features and then use them. Receiving a 30-minute walk-through by a sales person at the time of delivery will not equip most drivers with the ability to understand their system or how to use it. Indeed, there is a big question about the ability of the average salesperson to be able to explain the use of these systems to the purchaser. This creates opportunity for a full-service restyling company to fill the "knowledge gap" by providing the training necessary for the purchasers to use their installed system in a satisfactory way.
Available aftermarket products
Here is where the industry always steps in and provides more choices to satisfy consumer demand. Steve Weimar, Rosen Entertainment, Corona, Calif., has this to say: "As for my thoughts on ICE/IVI -¦ while Rosen fully embraces these technology advances, there are already negatives associated with too much information and content, which becomes either too difficult to use or the associated risks from driver distractions."
"With technology advancements in smart phones," Weimar continues, "you are already seeing interfaces being added to in-dash products with the likes of Pandora, iHeartRadio, A2DP music streaming, verbal text and e-mail, and much, much more. This, in my opinion, is great for the 12V retail and expediter world. While it places greater demands on the in-dash and rear seat entertainment manufacturers, the level of content availability is far reaching."
"I feel the industry challenges will be to deliver ICE/IVI devices that can either outperform what is and what will be delivered via smart phones and tablet devices, or -¦ create modules and mounting devices that allow the portable devices to be safely used inside a vehicle. We are already seeing that in iPad mounts and other adaptive products."
Brian Torres, at Corona, Calif.-based Vizualogic, also sees opportunity. "Wireless communication, entertainment, vehicle controls and Internet connectivity have raised the standard of expectation consumers look for in their driving experience. This is creating big opportunities for aftermarket additions of components not currently offered by vehicle manufacturers."
When it comes to the view of the future, both Weimar and Torres see a lot of excitement. "Bringing the tablet device into the car is the rage," Torres tells us. "Convenience and flexibility drive this. However, in the vehicle these ICE/IVI products need to be stable, solid and safe in the event of accident. This will continue to drive the integrated display of media. The technology is advancing; that is, LED backlighting, higher resolution digital viewing, OLED [organic light-emitting diode] screen flexibility, smartphone controls with HDMI [high-definition multimedia interface] connectivity, etc., which will drive the growth."
Weimar is equally enthusiastic. "Products with Wi-Fi devices that allow streaming video to be shared throughout the vehicle will grow and become very popular," he says. "With companies like Netflix offering movie/TV show streaming for as little as $8 per month it is now very affordable for most. In-dash devices like Rosen's factory-look and universal 2DIN systems that support rear-seat LCD displays like the Rosen AV7550 Slave Screen System are a good solution. This simplifies and makes more affordable what the front and rear seat occupants need and provides rear seat controls over various in-dash source functions."
Education, training a must
Naturally, the industry wants to know what kind of training might be needed, where it can be obtained and what costs will a shop owner incur?
Both Torres and Weimar agree that you can't keep your head in the sand. Training will be necessary because as technology changes, the skill levels will change, as well. Think back to your first cell phone and compare it to the Android or iPhone you might be using now. At one time, you might have thought a device that could make phone calls was a huge leap forward. Nowadays, many people cannot function without all the features and functions of their current device. This will continue to happen on a regular basis with ICE/IVI devices, and will certainly require constant attention to training, re-educating and keeping pace with current technology. As Torres states, "The shop owners should encourage and support installer participation, industry-sponsored and/or fee-based webinars, technical roundtables and refresher academic courses to continually enhance the installers' value. Carburetor experts today quickly lose value if they do not add to their skillset computer-controlled fuel injection systems."
Weimar is confident in the abilities of today's installers to do the installations. He sees the key to be consumer training.
"The complexity of the new technology will force expediter/installers to spend time with the consumers training them on how to use their complex and feature-packed devices. Some are doing this today with in-dash multimedia systems, as many consumers simply don't understand how to operate their new device – which leads to dissatisfaction. Rosen has tried to address this with training CDs included with each in-dash product and posting them on our website and YouTube, as well. Even the OEMs don't provide any real level of training and defer to the selling dealer, which in most cases doesn't know how to train or use and refers consumers to the owner's manual."
Another 'distraction'
While the topic of distracted driving and telematics was a topic for the December 2010 "Why WiFi" Restyling magazine article, it still needs to be addressed by our industry. The OEs are acutely aware of the issue, especially since transportation secretary Ray LaHood, head of the U.S. Department of Transportation, is breathing down their necks. Our industry is flying under the radar screen, but increased pressure by lawmakers to control distracted driving will certainly have an impact on our industry.
Rosen builds in features to automatically answer incoming phone calls and also to automatically disconnect when the call is finished, so the driver is never required to touch anything.
Torres agrees, adding that "Legislation alone will not restrict the driver's quest to enjoy these new conveniences. The industry needs to continue to develop the hands-free and/or voice control of these conveniences as seamlessly as steering wheel controls adjust a radio."
So the challenge is before the restyling industry. Where will you be a year from now? Still looking, sitting on the sidelines? Or will you seize the market and become the expert? The choice is yours. I can promise you the OE's have already decided they want the market. Go out and get it. The aftermarket industry has always been able to provide more and better features, while staying ahead of the curve the OE's are on. This is one more opportunity to step up to the challenge.
Advice for the industry
The sudden wave of technology incorporated into vehicles can be daunting. At the same time, it provides opportunity. The restyling industry needs to seize control of the onboard electronics segment. That is not a radical statement; it is a statement based on reality.
Many of the other items traditionally marketed in the restyling industry are being eclipsed by the spending of consumers to obtain electronic devices, features and functions in their vehicles that will allow their vehicles to become an extension of their "Facebook lifestyle." Whether you like it or not, it's here, it's popular and the OEs know they need to chase the technology and incorporate it into their vehicles.
Both Rosen Entertainment's Weimar and Vizualogic's Torres have good advice for restylers.
Weimar: Stay current on the new technology or it will leave you in the dust. You don't have to know and understand everything, but you do need to know where to go to get that information. The Internet is your friend, and so are the major print and online media sources.
Consumers and car dealers alike don't really expect you to know everything, but they do expect you to research and get back to them with a knowledgeable and informative answer. Also, don't be afraid of technology; instead, embrace it as it's your next income source.
Don't feel you have to be everything to everybody. Do what you do 100% and add products that have been researched and proven to deliver the performance and manufacturer support you and your customers desire. It's better to under promise and over deliver, and try to be the best you can be.
Torres: Knowledge will be power. Again, the installer/restyler needs to take the initiative to educate and train to keep up with the technology. Promote and market their commitment to keep pace with the challenge of changing skills and expertise, and make it a business plan rather than an accident of their casual curiosity.