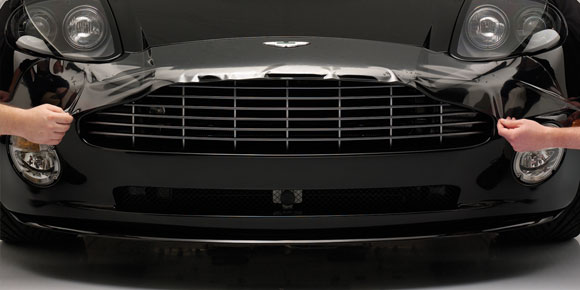 It's a force to be dealt with and it's growing. We're talking about paint protection film products, better known as PPF. Not only is it growing but PPF technology is growing almost as fast.
We polled some industry experts to see what PPFs are up to this year, what may have changed, what might be new in the films themselves and in kit designs. We went even further when we ran a second set of questions by plotter/cutter experts.
Our first question was about the types of PPF products available: Just how does an installer educate customers as to what type is best for each customer? Acton, Mass.-based Haartz Corp.'s Gordon Goodwin tells us, "The seller/installer needs to select for the best protection and cleanability for the customer. Another aspect is the backing. Is it filmic release instead of paper? One will have more of an orange-peel finish. Filmic release liners tend to have a smoother surface."
At Xpel Technologies, San Antonio, Texas, Eric Keller says, "A good installer will act as a true consultant for the retail customer or dealership. Most importantly, they must listen. At the beginning, whether it is a phone call, walk-in or business partner, the installer should qualify and ask questions about what the customer desires/expects and understand what the customer knows about paint protection film. While the conversation continues, the installer should weave in important information and educate the prospect about their products, techniques and expertise –  in a professional manner that best fits the customer's needs.
"In taking an overall solutions approach, the installer will provide the right product (different levels of coverage options) at the right price point to the customer and is much more likely to close a sale and keep a happy customer. If it is a new-car store or a fleet manager, it's all about their business and how you can improve their operations (profits). You want to convey the message that the film that you use is quality and that the total package you offer fits the right price point for the dealership. The second concern of the dealership is customer satisfaction. The dealership does not want to have any customer satisfaction issues or warranty work (unless they sold the warranty as an upsell). The film or PPF products that you carry must stand the test of time and so does the workmanship."
Jeff Boettcher, of 3M, St. Paul, Minn., offers this: "If a customer is interested in protection and styling, an installer could offer the new matte. If they are interested in covering a whole hood in one piece, choose the wider films. It's also wise to consider reputation of the manufacturer and their staying power in the market."
Who's your buyer?
We next asked about the likeliest PPF buyers. Keller from Xpel simplifies it by saying, "Anyone who loves their car. The automotive enthusiast is your best bet as a target customer for PPF.
Clear bras are not just for the exotics," he continues. "In our sales data we see strong kit demand for Toyota Prius, Ford Fiesta and Honda Civics. The bottom line is that if the consumer loves their car they will want to protect it.
"The best marketing method to reach the consumer is via the Internet, and the most important thing to do is to make your work visible. There are too many installers out there who do excellent work but it goes completely unnoticed by the masses. If you are advertising in the Yellow Pages or on radio you are throwing money away. The majority of today's shoppers do their research online and they have already made a purchasing decision before they ever picked up the phone or walked into your shop. Make sure that you are showcasing your work online to the best of your ability. The PPF installer's ultimate goal in marketing is to make their work visible online and relevant to the search engines. Some installers across the nation do an excellent job with this, but most need to step up their game. The most important thing that the consumer wants to see is high-quality photos and videos of installations that the installer has done.
"The second key piece to know is that the prospective buyer wants to know that you are doing installs to cars that are similar to theirs. The best advice I can give is to take pictures and videos for each install that you do and post them on your Web page, a blogging site, Facebook, Twitter, YouTube and Internet message boards for improved visibility to the enthusiast and for the search engines."
Boettcher from 3M agrees. "People that have a passion for their vehicle, who are willing to invest it in and want to keep it looking better longer," he notes. "Installers can reach them through dealerships, through car clubs, trade magazines and enthusiast websites that market to these groups, and through forums, blogs and other social media venues."
Haartz's Goodwin answers, "Advertise in Restyling magazine. Use Internet websites, mass mailings. Many shops are already expanding as their customers are insisting on window films, which are a natural progression from PPFs and vice versa. It's a growing marketplace."
Get the manufacturer on board
What about the questions an installer should ask the manufacturer? Boettcher gave us these: "How long has the company been making this product? What is the track record? In these days and times when companies may come and go, what is the staying power of the brand and products?"
Goodwin says, "Will the product offer a durable clear coat? Does it have a filmic release liner? Is the film non-yellowing and will it retain its gloss? Most of all, are there valid test results and certified data on this product? Along those lines, can one see the performance data on competing products as well?"
Adds Keller: "The installer should ask the manufacturer the following questions: How good is your customer support and what do you offer? What kind of lead time can I expect when ordering film? What are your warranties on the varying grades of your film and or products? How quickly are your warranties handled and how am I compensated for labor when performing warranty work? What is the right way to install your film and how does it differ from what I am using today? What are the proper expectations that I should set with the customer?
"The first (question) is the most important. The installer should have an excellent relationship with the manufacturer. At Xpel, we believe that it is an equal partnership between the installer and the manufacturer. The manufacturer can make the best film in the world, but if the installer is having difficulty on a particular PPF installation the overall quality of the final product will suffer.
"The installer should look for the following in a manufacturer: Quick accessibility, responsiveness and timely resolution. If an installer encounters difficulty during an installation they should look to the manufacturer to give them a helping hand. Having a manufacturer with the aforementioned qualities will make an installer's business life much easier and give them the time to go out and get more business."
Plotter and software trends
We asked about the growing trend for using plotter/cutters. What about software and updates? Goodwin says, "There are numerous software applications available in different locations. Distributors often offer such software as well as independent sites. There's a full library of software out there for window and PPF applications and it's constantly being updated."
Keller tells us, his company "has been in the software side of the business for over a decade and our database now has over 80,000 kits that are generally available to be cut on demand via the Design Access Program (DAP)."
He continues: "There are several manufacturers that are offering pre-cut kits today. If you are considering switching to pre-cut kits from hand-cut installations, there are several factors to consider. Can the time I save on material and labor truly offset the price of pre-cut patterns and equipment? Does the software platform give me the maximum ability to save time and material over other software manufacturers? How quickly are patterns for new models made available? Can you manipulate patterns to offer multiple features like wrapped edges? After an installer has downloaded Xpel's DAP, it is a matter of seconds for an installer to have a pattern ready to be cut. The flexibility of our software program also allows the installer to not only manipulate the pattern to their specs but to save those revisions for a future cut."
Boettcher says, "Many film suppliers now offer their own software packages, and there are also third-party software offering kits. But it's important to use patterns that match the film's characteristics. For example, 3M Digital Designs patterns are made specifically for use with Scotchgard films and with VentureShield films. The programs have been around and are easy to download, and most suppliers offer demo versions for trial use."
Wrap it up
Our last question was about add-on sales. Should the installer offer "package deals," such as window film, detailing, etc? Keller says, "The higher price point of PPF makes it difficult to create a package deal to a window tint customer – but window tint can be added to a PPF sale. We [also] feel that detailing is a great fit because the prep work done on the car during a detail helps to improve the overall appearance of a vehicle before the clear bra is applied. Customers who get their car detailed already care deeply about the appearance of their vehicle. The clear bra is just a natural extension of preserving a car's appearance for the detailing customer."
Says Boettcher: "This can be a good way for an installer to package multiple products and services and to be a one-stop shop for the customer. We've seen this with PPF being packaged with window film or headlight restoration, for instance."
Goodwin says, "Absolutely. It's a value-added opportunity to both the consumer and the installer, as not all shops can do both. If you have the ability to offer it, absolutely [do so]. It's a growing market."
So it's unanimous. PPFs are a growing field.
Plotter /Cutter Update
In the paint protection film market, plotter/cutters are often employed, especially with some shops that are involved with higher-volume installs. As such, we asked industry experts about the state of equipment out there today.
Our first question was about the software and updates available. At Roland DGA, Irvine, Calif., Dana Curtis tells us, "There are some programs that come complete out of the box, but most require some form of annuity to keep the pattern database up to date. The most popular programs are based on graphics software. The key differences between these products are their ability to save changes to patterns and whether or not they are online-only programs. For shops that want to restrict Internet access to their employees, online-only programs can be very cumbersome."
Suwanee, Ga.-based Mimaki USA's Steve Urmano notes that, "Although Mimaki doesn't sell cut software specifically for cutting paint film or automotive vinyl, we do work with third-party software which fills this need. One product, The Bad Wrap, (www.thebadwrap.com) has a comprehensive list of vehicle templates which can be used for paint protection films and for vehicle wrap applications."
In St. Louis, Solutia/CP Film's Robert Bottema says, "We recommend using a digital cutting system for ease of use, and we've developed our own proprietary cutting system, PrecisionCut, to accelerate the learning curve and minimize material waste. To keep our dealers ahead of the competition, we have a dedicated in-house team that focuses on updating and adding new patterns. With an active subscription, these patterns can be automatically downloaded into the user's database with no additional fees."
Got equipment?
What about the latest equipment available? Mimaki's Urmano says, "The contour cutters in Mimaki's line are quite mature. The CG-FX Series cutting plotter [for example] has been in the product line many years, although we've added two new value-priced cutters, the CG-100SR 40″ priced at $3,145 and the CG-130SR 54″ priced at $3,295. The latter units are ideal for automotive cutting applications."
Michelle Pugh, from Phoenix-based Mutoh America, says, "The Mutoh ValueJet 1614-64″ is the 'Wrapper's Choice' printer for speed, quality and size for all wraps. All ValueJets come with the Mutoh i2: Intelligent Interweaving Print Technique, which allows increased print speeds, virtually eliminates banding and creates exceptional image quality. Quality is especially needed when you are wrapping large vehicles such as planes and semis.
Mutoh's Kona cutter comes in three sizes: 30″, 55″, and 65". "They are also multi-purpose, and can cut signs, lettering and contoured jobs," Pugh notes. "They also perforate as well as cut. An optional roll-off system is available for contactless loading of pre-printed rolls."
Bottema from Solutia says, "We offer plotters in a variety of widths and price ranges to accommodate as many installers as possible. We offer both Graphtec's FC series and GCC's Jaguar IV series machines. Each of the two cutters offered are highly customized to cut PPF and other non-vinyl films with outstanding accuracy. We also offer cutters in bundle packages that include a full, turn-key system including a desktop or laptop computer, cutter in 40″, 64″, or 72″ usable cutting width, and one year full PrecisionCut software subscription."
Curtis from Roland adds, "The paint protection film market started out with 22″ kits for hoods, fenders and mirrors. Now, as the market expands, the need for full hoods and fenders, roofs and trunks require a larger format cutter. At 64″, the Roland GX-640 cutter is the latest in the company's lineup -¦ and features the newest and most advanced hardware and software technologies including state-of-the-art DC servo motors."
Smart tips
Finally, we asked for some tips. Pugh from Mutoh notes this: "Always laminate your end vinyl product, this gives your art work a protected coat so it doesn't get beat up by rocks and everyday use. If you properly apply your laminated vinyl, your wrap can last you up to four years. Always allow for mistakes and have extra printed vinyl on hand. You want to use a large plotter size…so you don't have a lot of creases and lines on the application of the material."
Curtis says, "The key to any plotter/cutter setup is the initial setup of the film. Many users do not take the time to properly dial in a cutter for settings like speed, cutting force and blade extension. This can lead to wasted cuts on expensive material. Once a plotter is properly calibrated, the user need only load the film and go. A good software package will have features to reduce waste and get the most from your device
"Many software programs even cut out logos like 'Range Rover.' leading to the virtual elimination of hand-cutting on the vehicle. As the pattern design technology gets better, so will the ease of installation. While many point to plotter/cutter issues in the case of a poor installation, nothing can replace a properly prepped vehicle. The plotter simply removes the guesswork and liability associated with bringing a knife near a vehicle's paint."