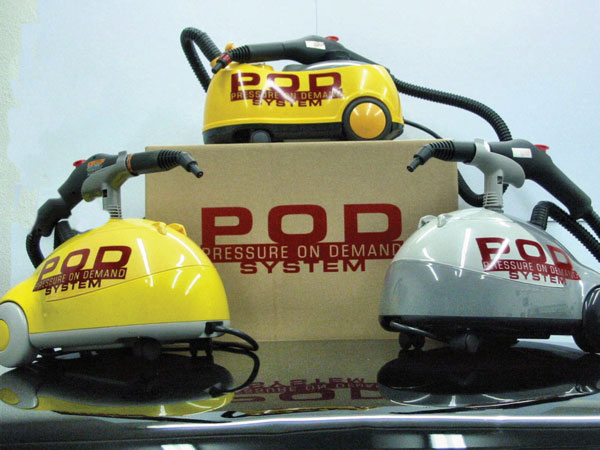 OK, so it's another beautiful day on the East Coast, a whopping 50 degrees F. As you start your day a car rolls up to your shop and the customer, who you barely remember, requests you to remove the clear bra on his car. The customer politely asks you how much to remove the clear bra you installed three years earlier. As you pause, then ponder how you can remove the 3-year-old film without leaving adhesive behind, you also think how you'll accomplish this without peeling any paint or just have the film (or paint) come off in chunks.
You think to yourself, Is there a method or a process out there that I should have learned? Well, installers, stay tuned for a method that will remove the stress and complications from film removal. I know, because I use it: steam.
Following is an easy How-To for you to follow so that you don't melt the film, burn your hands, bubble your customers' paint or have other mishaps.
Though other types of film-removal systems are available, for this project, I'm removing PPF film assisted by the Pressure on Demand (POD) system. Whatever removal system you might use, always follow the directions of the manufacturer or supplier. And if you need help, contact the appropriate person.
Pressure On Demand steam systems used to remove automotive films.
>> STEP 1: Heat up all body panels, including PPF material, to approximately 130+ degrees F and 45 psi, using steam or pressure. Avoid using a heat gun due to less control of temperature and danger of damaging the vehicle and paint.
>> STEP 2: Once the panels are at the desired temperature, you should be able to get an edge to lift. This is where you will start from.
STEP 3: Begin to steam the area at the starting point, while continuously applying steam to surrounding area. Remember to keep the temperature constant.
>> STEP 4: While lifting the material at a 30-degree angle and keeping nozzle tip 3″ from body panel to maximize on heat transfer, pull the film.
>> STEP 5: Pull film toward yourself (not against itself). By pulling it toward you, it will put less pressure on the painted surface and leave less adhesive behind.
>> STEP 6: Be consistent with steaming and pulling the film.
>> STEP 7: Always keep the direction of your pull to where the steam has been applied to keep heat ahead of working.
>> STEP 8: Maintain a steady stretch, keeping heat in the working area, so as not to leave adhesive behind.
>> STEP 9: Finally if any adhesive remains, you can use such products as 3M General Purpose Adhesive Remover, etc.