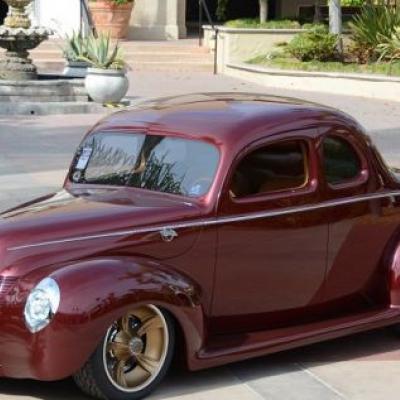 Ron Cizek's "Checkered Past" 1940 Ford won the Goodguys 2013 March Performance Street Rod d'Elegance Award at the 13th Meguiar's Del Mar Nationals, April 5-7 in Del Mar, Calif.
First introduced the hot rodding world in March when it won the Ridler Award at the Detroit Autorama, the cranberry-hued 1940 Ford was originally a build started by Cizek as a weekend project.
It was finished and coach-built by his partner Andy Leach and the talented team at Cal Automotive Creations in Omaha, Neb.
Leach apprenticed for six years under Troy Trepanier before joining forces with Cizek.
"Checkered Past" is Cal Automotive Creations first completed concept-to-finished-show-car project, according to a Goodguys press release.
Although a fair share of the 1940 Ford's factory lines were retained, the vehicle was handcrafted and reshaped. Leach and his team wedge-sanctioned the 1-inch from front-to-back, then chopped the top 3/8 inches for the perfect "hot rod rake." The hood, fenders and running boards were reshaped, while a custom grille with thinned-out headlamp rings finish off the front end.
Erik Hansen assembled and prepped the motor. A 4.71 GMC blower sits on top of the 1953 Mercury flathead, and the entire package is coated in a muted gold anodize to match the gold one-off Halibrand-style wheels. The original chassis was boxed and beefed up to accommodate the Tremec six-speed transmission, independent rear suspension, custom A-arm front suspension and disc brakes on all four corners, the release noted.
The interior was stitched with saddle brown English Leather upholstery with suede inserts by Boss Interiors of Iowa, and the stock 1940 dashboard features subtle modifications and custom gauges.
To create the car's signature cranberry-red hue, Charlie Hutton's Color Studio painted it in three stages, blending red, gold and brown.
For the '40 Coupe's big win, Cizek will receive a custom toolbox from Snap-on as well as travel accommodations to the Goodguys 16th Southwest Nationals November 15-17 in Scottsdale, Ariz. to join the "Champion's Arena" display featuring Goodguys' Top 12 Cars of the Year.
Fellow finalists for the Goodguys 2013 March Performance Street Rod d'Elegance award included Harold Chapman Jr.'s 1933 Ford, Jerry Kjensrud's 1939 Chevy, George Sepulveda's 1938 Ford and Roger Hill's 1939 Chevy. (Photo: Goodguys)