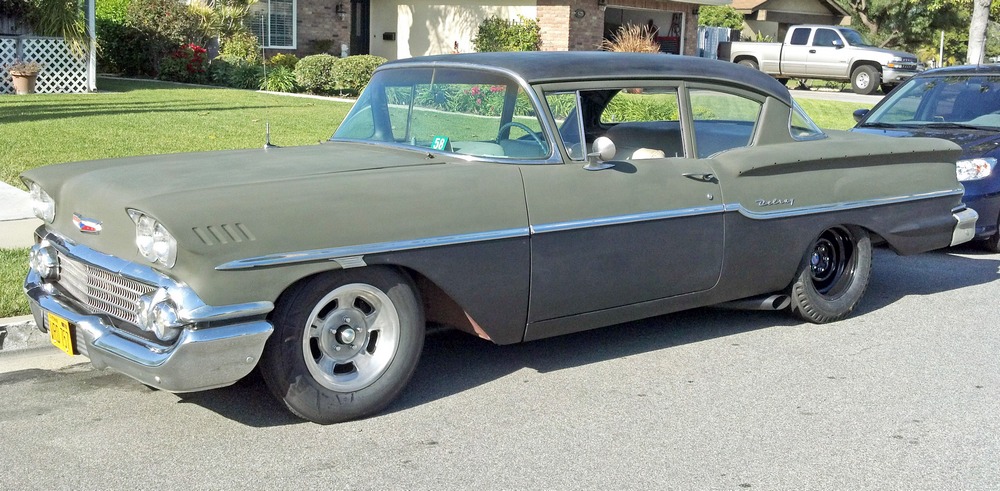 They were called Resto Rods back in the day. A street rod manufactured before 1949 built to look old but having plenty of modern equipment under its original-looking sheet metal.
They are still around today-including some 1950s-era models and newer-with the thought being, "Why would you want a 1932 car to handle like a 1932 car when there is all this modern technology now available?"
Modern drivelines, suspensions and even creature comforts for inside those old bodies are the keys to this particular genre. But today, it's not just about street rods-1950s, '60s and '70s cars and trucks are the new Resto Rods/Resto Mods. They can look stock, but have varying degrees of performance levels.
Often it's a matter of owner preference. Some want a stock OEM look, but with all the goodies underneath. Sometime, it's a matter of money. In these tough times, buying and installing parts one or two at a time keeps a budget from imploding and interest in the ride alive.
And particularly for the older vehicles, this genre is wide-open for discussion (as well as business), so we set out to learn more about Resto Rods and their place in the performance aftermarket.
One Piece at a Time
It seems that Resto Rods are currently flourishing.
"This market is way bigger than most people give it credit for, because it is not mainstream in the media," notes Brian Shephard, marketing director for Currie Enterprises, Corona, Calif. "It is the regular, blue-collar Joe putting a part on his car one at a time as he can afford them, and in the meantime driving it to work in primer and to hot rod shows on the weekends. I've got to think that this is one of the bigger segments of the performance aftermarket. How many $400,000 cars are being built compared to how many primered Chevelles and Novas that you see running around town?"
Brady Basner, sales manager of Powermaster Performance, West Chicago, Ill., agrees that the market is important.
"Resto-Rodding is a very central part of the performance aftermarket," he says. Those that build ground-up show vehicles are very few in comparison to the hot rodder who slowly builds a daily driver or weekend cruiser."
It's a hobby that has proven staying power.
"Resto-Rodding has been around a long time," notes Andrew Starr, EFI specialist for Hilborn Fuel Injection, Aliso Viejo, Calif. "Many performance manufacturers have catered to this market by introducing product lines that are more streetable than their racing products, and some have found a market that greatly eclipses their race-only sales."
Much like the Pro Touring segment, it's about a nostalgic appearance blended with modern performance.
"It's the replacement of original parts and converting them into newer designs," says Michael Jonas, president of Stainless Steel Brakes Corp., Clarence, N.Y. "This includes engines, suspension, body panels and electronics. This modification allows the owner to make this more like their daily drivers, but still give their cars a nostalgic look."
And, as referenced, more people are doing it than you might think.
"The market is significant because it's always been a large core of aftermarket enthusiasts upgrading the OE parts on their vehicles with performance parts," Basner says. "Bolt-on speed parts have always been a big part of hot rodding, and items like a chrome air cleaner and a set of cool wheels are the first upgrades to any new car."
Those upgrades may come over time-but at least they are coming.
"This is a very important segment of the performance market, since it seems to encompass clientele that are more mature, with more disposable income," Starr says. "The wide range of specialty parts now available is something that most many years ago would never have envisioned."
At its core, says Jonas, the movement is in many ways what hot rodding is all about.
"It represents what the public wants. They like the old looks, but demand more current functionality-"power, speed, handling, comfort and stopping."
Which makes it a must for local speed shops.
"On the business-to-business level, we know that most of the high-dollar cars being built out there get all of their parts either free or very close to it," says Shephard. "The guy that pays our bills is blue-collar Joe that is buying parts at retail, building up his hot rod."
The Perfect Product
So, what are our experts' hottest products for this market?
Starr says that for Hilborn, "The infamous small-block Chevy and big-block Chevy injectors along with our LS series of manifolds. What is old is now new, and the reinvention of the 409 and the appeal of the early Hemis have made them very popular in Resto Rod applications also."
For brake company SSBC, Jonas says, "Eight-piston and Tri-power calipers that fit into stock wheels. These calipers deliver very high stopping horsepower, but fit into many stock wheel sizes. This way, the customer is not required to buy bigger wheels and (can) still have bigger brakes."
Currie's Shephard says, "Bolt-in rear ends for all types of cars. No matter what kind of car the guy is building, we most likely can build him a unit to suit his needs. And this is a big part of why we have so many component options-so a retail Joe can opt for things that are within his budget and put together something he can afford."
And Powermaster's Basner notes, "Our most popular parts for Resto Rods are our series of Powergen alternators. The Powergen is an internally regulated alternator, designed to look like a factory generator. With added electrical items on a vehicle such as electric fans, air conditioning, power windows and so on, the original charging system on many vehicles is quickly overworked. With half the weight, and up to three times the charging ability of a factory generator, the Powergen offers a solution to charging system woes with the correct look of a factory part."
There's plenty to learn about the Resto Rod market, including some pitfalls retailers can avoid.
Jonas says that one challenge is "understanding what the consumer wants and how to make it work in their cars. Lots of parts are available, but it is not always a direct fit. Many times, your mechanic needs to be a fabricator and an engineer. (That's) not always the easiest thing to do."
Basner says another hurdle is knowing the limitations of the specific cars you'll be working with.
"The biggest challenge facing shops building Resto Rods is the limitations of the factory vehicle. While more power, braking, cooling, charging and better handling are things that every car owner wants, some vehicles from the factory won't allow for big factory upgrades. For instance, it's difficult (but certainly not impossible) to put a big cubic-inch, high-horsepower V-8 in a Volkswagen Beetle."
Such an understanding will help you better-fit each project with what your customer is trying to accomplish.
The difficulty is "recognizing it," says Shephard, "recognizing that backyard mechanic retail customer is really the guy that pays your bills. All of your marketing through promotional deals and show cars you donate parts to is all in the interest of getting the backyard mechanic to walk in your door and pay retail."
And Starr boils the challenge down to a modern saying: "Keeping it fresh."
Trending
So, with that in mind, what can shops do to better-connect with Resto Rod customers?
"Keep up with all the newest and the greatest," Basner recommends. "Stay in tune with the magazines and TV shows. Customers will always want to emulate what they see the big builders doing on their own projects. Just like music, clothes and TV, the styles change and people generally want to be in style quickly."
Having a staff that understands the market is also a crucial element.
"Have a sales staff that can relate to this client," says Shephard. "If you have a sales staff of enthusiasts that are blue-collar backyard mechanics themselves, they relate to that customer so much better. Rapport is built and the customer recommends you to his buddies because you have a sales staff of just 'regular guys' that treated him like an equal."
Starr puts it all together with, "If a shop is not selling to this market, they don't need to be in the business."
And Jonas suggests, "Become more aware of products that are coming to market. The consumers see a lot, but the mechanic/installer needs to know what fits. Make sure the manufacturer has a great tech line and staff that is familiar with installations. Customer service will become necessary to raise it to a higher level."
The question then becomes, what's the outlook for this special market?
"Ongoing," says Shephard. "Guys will always like cars and want to build cars. There will always be old cars out there that someone picks up, fixes up and spends retail dollars on to build his dream car."
Basner is equally optimistic.
"The long-term outlook for the Resto Rod market is excellent," he believes. "While money may not always be available for a full-on build, hot rodders will always find a way to improve their cars."
Starr says, "Bright. Once the (economic) inconsistencies of today are replaced with stable footing, we will see the Resto Rod market once again rise to the top."
It's proven to have staying power.
"More of the same," adds Jonas, "but with a demand from consumers for better-fitting parts and higher quality."
Something the Resto Rod movement has been about from the start.