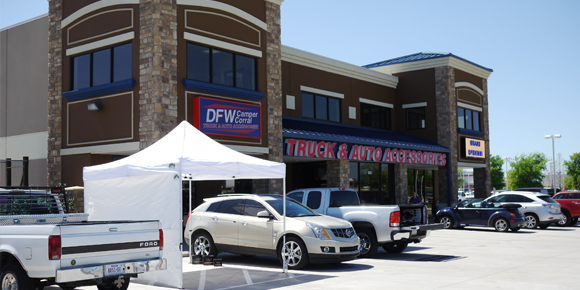 A new store at a new location looks to be a dream come true for this truck aftermarket retailer.
Achieving a worthwhile goal requires immense effort and at times personal perseverance and sacrifice.
Such is the story of DFW Camper Corral, Arlington, Texas, owners Ed and Christine Abbott, who started their first retail truck accessory store in 1978.
"Ed is one of the pioneers in this industry," DFW Camper Corral's general manager, Charles Matocha, says.
Ed Abbott originally worked at Gemtop Mfg. in Clackamas, Ore., in the 1960s, and later came to Texas to start his own business.
Abbott now owns four DFW Camper Corral stores across the Dallas/Fort Worth metroplex.
Abbott instituted an employee management system where the store managers are also DFW Camper's advisory board and where together they make group decisions for the locations and company as a whole.
"All of our people know our purchasing product goals and how to achieve them," Matocha says.  "We care about our employees, our customers and our suppliers. Without all three we would have nothing. Our employees are also quality conscious and treat every truck in the shop as if it were their own. We are also very selective of our products."
One employee at DFW Camper Corral's new, modern, built-to-suit Arlington operation is store manager Kevin Moore who, Matocha notes, has been with DFW Camper since 1988 and has been in this industry for about 40 years.
Deconstructing new construction
In 1997 DFW Camper began modernizing its stores, and nine years later started looking for its newest property in Arlington.
"In 2007 we put a contract on our new Interstate 20 location; and the contingencies (zoning, etc.) took almost a year," Matocha says.
The company then gained zoning approval in 2008 and the staff members began looking forward to their new building venture until, "the economy crashed," Matocha says. "We were just starting to prepare to begin construction immediately but the economy changed and we had to put our project on hold."
In the middle of 2010, though, owner Ed Abbott decided to start construction on the new location.
"For the design process we hired an architect, but the basic layout for the new building was pretty cookie-cutter to our other stores," Matocha offers. "We also worked with a facilitator who helped us in our efforts to comply with building codes, the city council, and the city's planning and zoning departments."
To assist their efforts, Abbott and his DFW Camper team, "went everywhere we could so we could make personal contact with city council members and the mayor, and also attended many community meetings and events to meet with anyone who could help us [win the city's approval]. Working through the city codes is hard and requires a lot of persistence, but it got accomplished with the help of a lot of folks. It was Ed's drive and determination that inevitably pulled this thing through."
When it came to other aspects of constructing the new building, Abbott followed his own personal rules and means.
"When Ed does a project such as this (new store construction) he doesn't go to a bank; he saves up for it and finances it himself so there is no debt load. He completely spearheaded the effort (every aspect of construction), and then he moved onto the construction site towards the end of the building process."
Once construction began on the two-acre site, "We started leveling the ground to drill piers," Matocha continues.
Then, they "hit pockets of water on the southwest corner of the property. This added three months to the project and took some time for engineers to decide how to move forward.
"They began by drilling from the standard 20″ deep to 45. We also had to use steel piers because we couldn't set concrete in the water. Later we added about five feet of dirt and sand to stabilize the soil," Matocha explains.
The DFW Camper crew originally had planned to open the Arlington location by summer 2011 but the delays took their toll and they could not open to the public until late fall 2011.
"In October we moved into the shop/warehouse and the corporate office (located above the store). Our employees then created cedar beam accents built into the store, gray slat board, and then painted the walls warm and neutral colors to blend our design. We then added antique signs, truck beds, stands and even a moose head," Matocha grins. "For a while we would go to flea markets and would always be looking for automotive antiques that would work. We would collect and save the items so we could hang them in the showroom."
The showroom as experience
Walking through the main entrance into the new Arlington showroom is certainly an overwhelming experience, all 6,000 sq. ft. of it. The only way to describe it is "truck accessory utopia meets the great outdoors – except with neon signs and antique accents. Each area of the sales floor is segmented so that products are easy to find: Towing accessories are in one area, while mini tonneau displays are in another.
During the design of the building, "we decided to put our stereo display in the center of the showroom close to the sales counter so our employees would have easy access to it," notes Matocha. "The sales counter runs almost the entire width of the store, (more than 50′), which gives associates and customers plenty of room to move or to simply place a box of truck side steps on the immense counter."
Off to the side of the counter is a door leading out to DFW Camper's 15,500-sq.-ft. shop/warehouse area. With five car/truck bays and shipping bays, the gigantic shop has so much depth you can pull multiple vehicles into each drive. DFW Camper is not only one of the larger-scale shops around, but it is, hands-down, the height of organization – even pristine.
"We believe in cleanliness and organization," Matocha says.
The warehouse consists of floor-to-ceiling rows of neatly organized boxes of just about every large-scale accessory such as grilles, tonneaus and bedliners. The ability to keep a large inventory of stock (due in part to the larger building) is just one of the reasons DFW Camper is one of the biggest camper stores in the metroplex.
Success on many levels
"Our key to success has been having locations on high-traffic roads because it guarantees our exposure. We moved from an off-highway location and the change has been unbelievable – a high-traffic location can potentially double your business," Matocha says.
He also believes that if you take care of people they will come back.
On Saturday, March 24, DFW Camper held its official grand opening of the Arlington store and many aftermarket manufacturers were on hand, including ARE and its National Hall of Fame Truck.
"We are one of ARE's biggest customers in the area and have been one of their top dealers," Matocha says.
Matt Blaze from ARE was on hand, along with C.W. Richardson of truck-cap/tonneau-cover maker TAG (Truck Accessory Group), Bob Bader of Hapco, Greg Gant of hitch-manufacturer Curt Mfg., and John Henry and Greg McKinney of Treo Mfg. (most of Treo's speakers and amplifiers are made in the United States).
"With the Grand Opening, we didn't know what to expect going into it because we had never held one before. One of our vendor friends told us this was one of the best grand openings he had seen, and we ended up having about 400 people attend," Matocha says.
The finished result is a project that DFW Camper Corral employees are proud to have been a part of.
"The history of this business starting as a camper-top dealer [to where we are now] is amazing," Matocha says. "We are real retailers, and we sell everything you can possibly put on a car or truck. We are all very proud of the end product because we all know the work that we put into it."