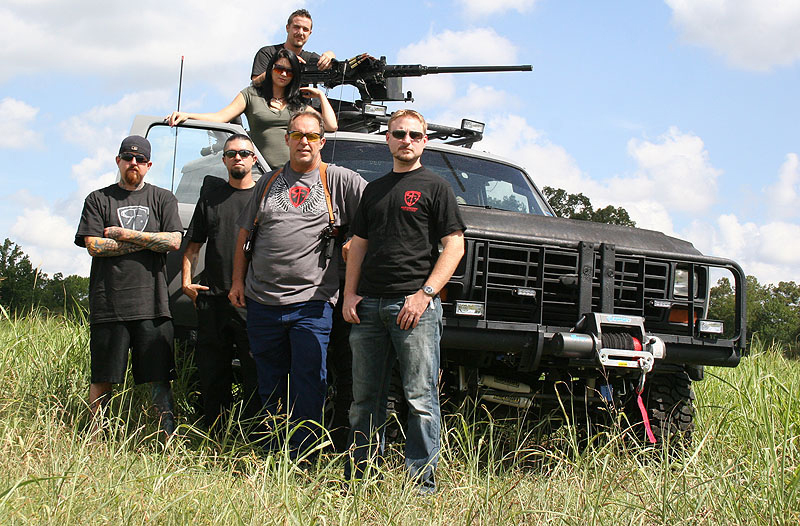 Custom guns shouldn't have to ride in stock trucks. So Superlift decided to increase the firepower on Red Jacket Firearms' "Sons of Guns" company trucks.
Red Jacket's "War Wagon" 1986 Bronco and "Light Recon" 1996 Mitsubishi Mighty Max have custom bumpers and racks made by Superlift's Metalforms USA manufacturing division, according to a press release.
Underneath, Superlift outfitted the Bronco with a full 4-inch Twin-Traction Beam lift system and Superrunner steering correction kit. The Mighty Max, meanwhile, has custom Superlift spring spacers.
Both rigs have Ramsey winches, KC HiLites driving lights, Interco tires, American Racing ATX wheels, Yukon gears, Magnaflow exhausts and Kicker sound systems, the release noted.
The modifications help Will Hayden and his Red Jacket crew penetrate their local backwoods.
"We always like to help our fellow Louisianans set up their 4x4s-and field-test their artillery," said Bret Lovett, Superlift owner.
"Sons of Guns" airs Wednesdays on The Discovery Channel.
(In the photo, "Sons of Guns" stars Vince Buckles, Glen "Flem" Fleming, Stephanie Hayden, Kris Ford, Hayden and Joe Meaux pose with Red Jacket Firearms' lifted 1986 "War Wagon" Bronco and a 0.50 caliber rifle.)