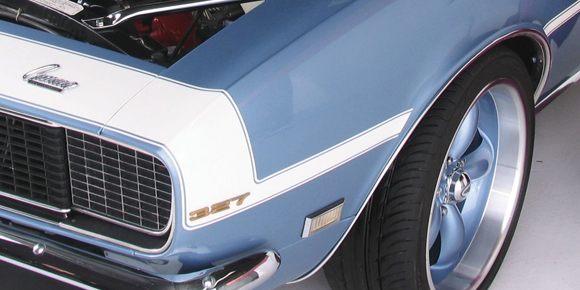 Keith Darnell is as much car and bike enthusiast as he is businessman. He "wanted to prove there was a better, faster, more efficient way of customizing cars, boats, motorcycles, or pretty much anything that floats, flies or rolls," he states on his website. So Darnell and friends and fellow enthusiasts who "started relying on one another to contribute skills that each had already developed in life," came together to bring to life Dallas-based Hellrazor Customs.
One of the many vehicles he and the crew brought back to a new, enhanced and rededicated life is this 1968 Chevrolet Camaro, Darnell's personal ride.
Here's what Darnell says Hellrazor did: "Numbers matching 327 motor (fresh rebuild everything); new performance exhaust; new two-barrel carb; new 700R4 overdrive four-speed transmission (fresh rebuild) – this car starts to breathe at 85 mph and can run all day at that speed."
The team installed factory power steering, factory power-disc brakes, new factory air conditioning, factory tilt-wheel, new houndstooth interior, factory walnut steering wheel; new wheels/tires: 18×8 and 20×9 color-coded racing wheels, factory rally stripes, factory cowl hood and fresh grotto blue paint with factory white stripes.
There are just 71,000 original miles, with "original floors, trunk and quarter panels with no patches/Bondo." They added Hotchkis Racing Suspension with stock appearance, but with performance ride (leaf springs, coils, shocks, anti-sway bars), 1″ drop rear, 2″ drop front. The car handles better than new, says Darnell, and he wouldn't hesitate to get in it and drive it to California from Texas any day of the week