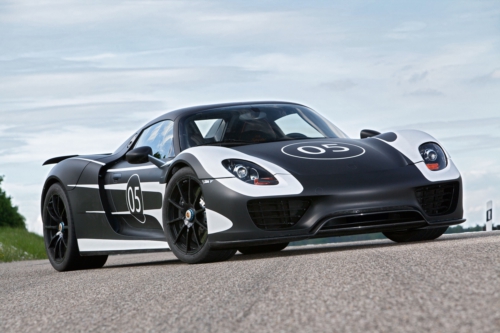 The Porsche 918 Spyder is on the road: Dr. Ing. h.c. F. Porsche AG, Stuttgart, has taken the driving trials of the super sports car of the future a step further with completion of the initial prototypes.
The 918 Spyder is planned for production at the end of September 2013, with the first customer deliveries currently scheduled for the U.S. late in 2013, according to a press release.
"What we are doing with the 918 Spyder is redefining driving fun, efficiency and performance," said Wolfgang Hatz, member of the executive board of research and development, Porsche AG.
The prototypes-their camouflage harking back to historical Porsche 917 racing cars-signal the final touches to the 918 Spyder, the release noted. The focus is on the interplay between the highly sophisticated individual drive components.
The super sports car is designed as a plug-in hybrid vehicle combining a high-performance combustion engine with cutting-edge electric motors, creating a racing machine boasting more than 770 hp and fuel consumption in the region of 3 liters per 100 kilometers (70-plus mpg), according to the company.
Other innovations include a full carbon fiber-reinforced plastic (CFRP) monocoque body with unit carrier, fully adaptive aerodynamics, adaptive rear-axle steering and an upward-venting "top pipes" exhaust system.
The combination of a combustion engine and two independent electric motors-one on the front axle and one in the driveline, acting on the rear wheels-poses completely new demands on the development of the operating strategies, according to the company.
"They are therefore a critical component in this vehicle into which we have put all of our expertise and capacity for innovation," Hatz said.
The operating strategies and the development of the software to go with them are one of Porsche's core competences, he added.
"Both have a major influence on the extreme driving fun to be had with the 918 Spyder, and they make possible a unique combination of minimal fuel consumption and maximum performance. The initial results of the driving trials are in line with the high expectations placed on the 918 Spyder."