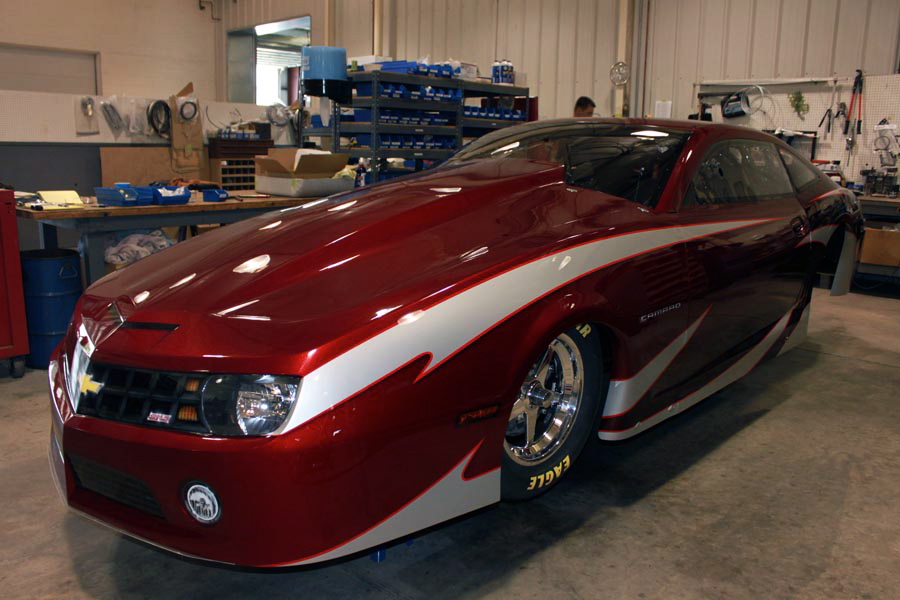 New 2012 Pro Stock Camaros are under construction at RJ Race Cars.
Summit Racing Equipment recently unveiled the new paint schemes for the 2012 Camaros drivers Greg Anderson and Jason Line will be piloting in NHRA Full Throttle competition later this year.
Summit Racing also revealed photos of Anderson's Camaro under construction at RJ Race Cars in Galesburg, Ill.
"We're excited to give the Summit employees and race fans a sneak peek at what their new hot rods will look like," said Anderson, a four-time NHRA Pro Stock champion. "I think people will be a little surprised at how different the Camaros will look from our current cars."
The two drivers showed off the rendering of their new cars April 21 at Super Summit 2012, Summit Racing's one-day open house at the company's retail/warehouse location in McDonough, Ga.
"I'm excited by our move to the Camaros," added Line, the 2011 Pro Stock champion. "For the first time in my Pro Stock career I'll finally be driving a real muscle car, and I think the fans are really going to like our new look, which is completely different from anything else we have ever run. It was fun to reveal the paint schemes to everyone, and will be even more fun when we get our Summit Racing Camaros out on the racetrack."
The 2012 Camaros will replace Anderson and Line's current Pontiac GXP race cars. Anderson is currently first in the NHRA Full Throttle point standings in Pro Stock and Line is currently second.
Fans can follow their seasons at www.summitracing.com.