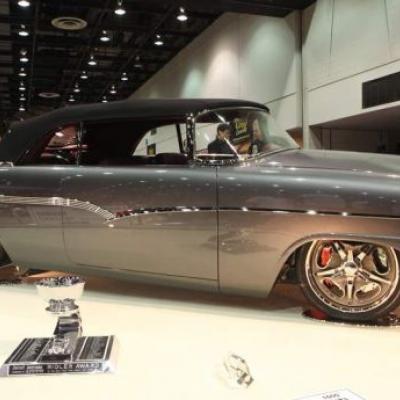 Bruce and Judy Ricks' 1956 Ford convertible took top honors at the Detroit Autorama last week, bringing home the 2011 Ridler Award.
The car, which was built by the team at Steve Cook Creations of Oklahoma City, took six years to complete.
The car, known as the "Suncammer," got its name from the 1956 Ford Fairlane Sunliner that was used as a donor car and its Ford 427 SOHC engine known as the Cammer.
The Suncammer is the Ricks' fourth entry into the Detroit Autorama, although this is the first time one of their cars was chosen to be in the Great 8 (the top eight cars as chosen by the judges), according to AutoWeek.com. From the Great 8, the Ridler award winner is selected.
"The Ridler Award is the top honor at the Detroit Autorama, and is regarded as the top hot rod award in the United States. It's given to the best car-regardless of class-as long as Autorama is the first time the car has been shown to the public," stated the AutoWeek.com article.
The Suncammer features two Ford Autolite four-barrel carbs that sit on top of the Cammer engine. The engine was dyno-tested at more than 600 horsepower. Other features include a Tremec TKO-500 transmission and a Tiger Quickchange rear axle.
"It was built to drive," Bruce Ricks said after winning the award. "That's why we put the big, bad motor in it."
Ricks' team slept in two and three hour shifts in the weeks prior to the show, according to the AutoWeek.com article.
They sectioned and channeled the body, pancaked the hood, slumped and re-peaked the fenders, leaned the A-pillar and donated the elbow grease.
Competition for the 2011 Ridler Award was fierce, with the Great 8 also including a 1962 champagne-colored Corvette owned by Bruce and Toni Milyard; Jim Marciniak's 1963 Buick Riviera; "Copperhead," a 1940 Ford owned by Kenneth Tallent; Mike Lethert's 1939 Ford convertible; Tim Gunsalus' 1947 Chevy pickup; a 1957 Chevy owned by Kenny Frederick; and a 1951 Chevy coupe owned by Derrick Samson.
This marks the first time that a 1950s-era vehicle has taken home the Ridler in the past 20 years, according to Hemmings Blog. In fact only four non-1930s-era cars have taken home the Ridler Award in the past two decades.