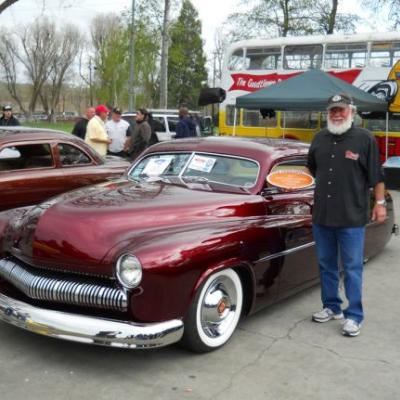 Joe Proski's immaculate 1950 Mercury was named the Goodguys 2011 Mother's West Coast Custom of the Year at the 29th All American Get-Together in Pleasanton, California, this past weekend.
The merlot Merc was redone last year by Doug Jerger and the team at Squeeg's Customs of Chandler, Arizona. In its previous life, it had been eggplant purple with black wall tires and wheels from Boyd Coddington.
"After years of running the car in its '90s trim, Squeeg Jerger, a longtime friend, talked Joe into a complete overhaul, transforming the car from a dated custom rod into a timeless, traditional custom," Goodguys reported. "The Squeeg's team [relocated] the bumpers, adding a drip rail, reworked the doors and new grille, completely reworked the interior and smoothed it all out before applying the custom mixed PPG merlot paint."
The next stop for Proski and his award-winning Mercury will be the Goodguys 11th Meguiar's Del Mar Nationals.
Proski's car will be on display with another Squeeg-built award-winner-Darryl Wolfswinkel's 1934 Ford, which was named America's Most Beautiful Roadster (AMBR) for 2011.
Proski's Mercury beat out an impressive field of custom cars to take home the West Coast Custom of the Year award.
Also in the running were Richard Zochhi's 1946 Lincoln Club Coupe, Michael Garner's 1951 Mercury, Daryl Ducommun's 1950 Ford and Robb Robinson's 1965 Buick Riviera.