Features
1917 Oakland on the Road Again…After a Dose of Chaos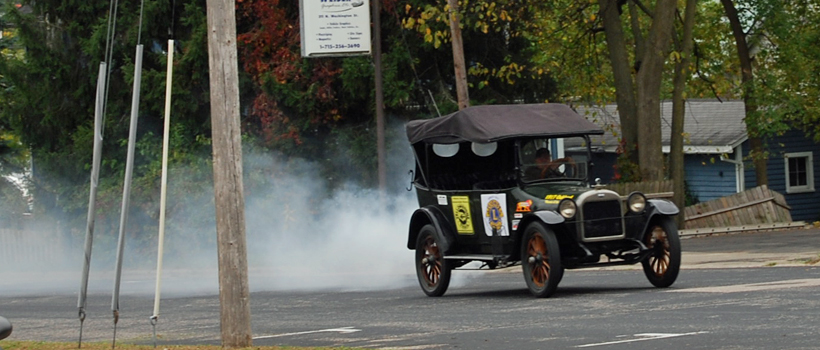 EDITOR'S NOTE: The following blog was written by John Gunnell, owner of Gunner's Great Garage Restoration Shop in Manawa, Wisconsin. Gunnell regularly contributes articles and industry-driven observations for THE SHOP magazine and eNewsletter. To learn more about Gunnell's Yellowstone Trail trip, read Restoration Shop Owner Prepares 1917 Oakland for Yellowstone Trail Tour
…..
DAY FIVE: Resurrection!
Dave Sarna and I wanted to get to Gunner's Great Garage by 8:30 a.m. so he could work on the Oakland engine. Bob Hansen starts work at that ungodly hour and would be there to help Dave. Bob Buchman was also meeting us at 8:30, as was Bob Hanson of WPAK Radio 106.9 AM in Waupaca, Wisconsin.
Of course, we'd promised to snap photos of Lucky-the manager of the Plover Comfort Inn-with a few employees, in front of the hotel's Yellowstone Pub. By the time this was accomplished, we were a half hour late getting to the garage in Waupaca, but Dave was pumped to get the 1917 Oakland running.
Things were already hopping by the time we arrived. The Coffee Clutchers-a hot rod group-were having a breakfast and touring a collection nearby the shop. So, we invited them to stop by the garage to enjoy the lunch that the Waupaca Lions were putting on at noon. Our plan was to have Dave and the three Bobs work on the car, before and during the Lions lunch. Debbie Sarna had brought us the good used Oakland rod bearings that Andy Wise, of Ellendale, Delaware had quick-mailed to us.
Bob Buchman and Dave re-shimmed and re-gauged five of the rod bearings with a pretty good-sized crowd watching them, as if they were entertainers rather than mechanics. Bob Hansen sanded the bearings that Andy had sent and Bob Hanson organized the rod shims by thickness and ran tools back and forth. The work on the car progressed from 9 a.m. and on wasn't completely over until about 2:45 p.m.
Each journal had to be re-shimmed and on most or all of them, this had to be done several times. The goal was to have the bearings set just right. If they were too loose, the rod would knock; if they were too tight, the engine would turn hard. The crankshaft had survived the number-3 bearing failure pretty well. It seemed like it was still nice and round. There was a slight depression, but Bob Buchman said, "Heck, the crank is still pretty and that depression will just let more oil in to help the splash oiling system work better."
Somewhere in the middle of all the chaos at Gunner's Great Garage, a shop customer named Larry Obiala showed up to take his 1953 Dodge pickup frame away so he could get it powder coated. About this time, I got a call from Chuck at WPAK to do a radio remote interview.
It was still a little hectic when Greg Stesie of Greg's Rod Shop and his wife Leah came by. They helped sponsor our radio spots, as did Northern Battery Co., the Appleton Auto Show, the Iola Old Car Show and the Jefferson Car Show and Swap Meet
Next, I received a surprise phone call from Barney Gaylord of Chicago, who is also known as the MGA Guru. Barney drives around the country in a 1958 MGA that has, like, a half-million miles on it. Gaylord has been traveling the country for three years putting together a list of all shops that repair British cars. He had stopped at the original Gunner's Great Garage in Manawa. No one was home, so he decided to call me.
We directed Barney to the Waupaca shop. This was around 2 p.m. and Dave and the three Bobs were just about finishing work on the car-at least they thought so.
I wasn't sure if the MGA Guru could arrive in time, but I should not have been worried. Dave attempted to start the Oakland and the battery was low. After a few minutes on the charger didn't do the trick, Dave decided to push start the Oakland. We had plenty of helpers standing around to push it off.
The car started almost immediately and smoked like the mosquito-killing truck that we used to chase around town when we were kids (yes, we survived it!). Dave drove it around the block several times.
It was smoking because we had purposely over-filed it with oil. We figured that was a better thing to do with a splash lube system, than to have too little oil. I'm surprised that ho one called the Waupaca Fire Department. These trips didn't stop the smoking any, but they did give Barney Gaylord a chance to make it from Manawa to the Waupaca shop.
By the time Barney arrived, Dave had backed the Oakland into the old service bay  (my Yellowstone Garage dates back to 1909, eight years before the Oakland was made). Debbie Sarna noticed oil leaking from the oil pan. It appeared that the machine shop that cleaned the pan in Chippewa Falls on Tuesday had pressure washed it and that loosened up some rust. Not to worry. Bob Buchman made a gasket and used a screw to fix it to the pan and then covered the repair with 5-minute, two-part epoxy. Problem solved (for now).
It was 3 p.m., two hours later than we wanted to hit the road. We had missed an interview with radio station WDUX at 2 p.m., but we asked Debbie Sarna to go there and do that for us. Then, we loaded the car on the trailer and took off. The car was still riding well, but we didn't want to drive it on a four-lane highway. So, we towed it to a spot near Fremont, Wisconsin and offloaded the car for the ride into Oshkosh. That was a 30-40 mile run along some of the prettiest country back roads in Wisconsin. This was one of the most enjoyable parts of the trip so far, but another high point was to come in Oshkosh.
We arrived at Leon's Custard in Oshkosh and a small contingent of Lions were there to greet us. One was Wayne Heiman, of the Manawa Lions, who had done so much to make our tour successful. Wayne handled all the Lions Club connections and booked all the hotel rooms for Dave and I. The other was Shirley, of the Oshkosh Lakeshore Lions. Shirley has been blind since she was six months old and is 87 today. She is a wonderful lady who Dave took for a ride in the Oakland. Shirley rewarded him with a $200 donation to the Lions Club camp in Rosholt. This is the charity that gives blind, deaf and disabled children the opportunity to go to summer camp for free!
Dave Sarna and I decided to give Shirley our Michael J. Dowling Award of the Day. Dowling is the triple amputee who drove a 1913 Oakland as the first car to cross the Yellowstone Trail in 1913. Dowling used to give speeches to disabled World War I vets and tell them "it's a good thing I'm not a cripple." We're pretty sure that Shirley would tell people she meets, "It's a good thing I'm not sightless." Other than the fact that she couldn't actually see the 100-year-old car, Shirley experienced her ride in the 1917 Oakland to the fullest.
For more information about the Yellowstone Trail Tour, visit Century For Sight on Facebook.